Tustin cops bust 300-vehicle street takeover; spectator injured
TUSTIN, Calif. - Multiple people were arrested and dozens of cars impounded after police in Tustin busted a massive illegal street takeover Friday night.
The "intersection take over" happened around 11:40 p.m. in the area near Tustin Ranch Road near Park and Warner avenues.
According to police, an estimated 300 vehicles participated and were reportedly doing donuts and driving on the wrong side of the road. Fireworks were also being launched, authorities said. 
SUGGESTED:
As a result, 18 people were arrested, 20 citations issued and 51 vehicles impounded for various vehicle code violations. The series of illegal activities caused at least $64,000 in damages to the road, police told FOX 11.
Photo courtesy Tustin Police Department
A spectator was also struck by a dark sedan doing burnouts in the intersection, police said. That person suffered several broken bones and was taken to a local hospital in stable condition, authorities said. 
The search is still on for the driver who injured the onlooker, who is now being looked at as a hit-and-run driver.
The Tustin Police Department issued a warning to anyone thinking about participating in any future street takeovers.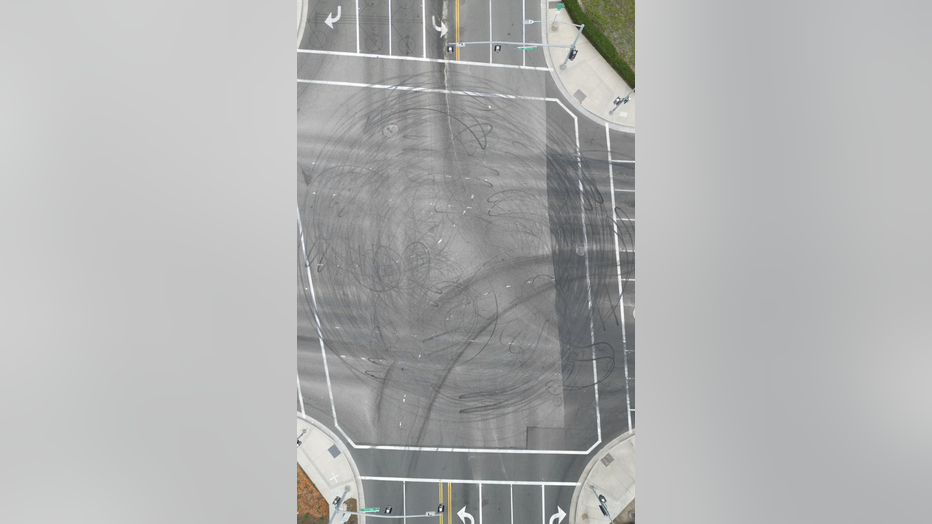 "If we weren't clear enough earlier this year, we will not tolerate this reckless and dangerous behavior. If you come to Tustin to race, we look forward to chatting about local laws as your car is loaded on the tow truck. At the end of our chat, you may have to sign a thing or two," the police department said on social media. 
Police warn those involved in street takeovers, including ones who came by as spectators, could face fines of at least $1,500.
Anyone with information about the participants in this street takeover is urged to contact Detective Yuhas at (714) 573-3218.