Tulare massacre: Video shows mom, baby trying to escape before execution-style murders
TULARE COUNTY, Calif. - Law enforcement have released 911 audio and security footage from the scene of a "cartel-style" execution that left six family members, including a 16-year-old mother and her 10-month-old baby dead in Central California last month. 
Sixteen-year-old Elyssa Parraz and her 10-month-old baby boy Nycholas Parraz were found shot in the back of the head outside their home in Goshen in Tulare County on Jan. 16. Video released by the Tulare County Sheriff's Office shows Elyssa Parraz carrying her child as she ran from the home, lifting her baby over a fence before jumping over the chainlink fence to the driveway herself. Seconds later, the shooters are seen following them, pulling out their weapons.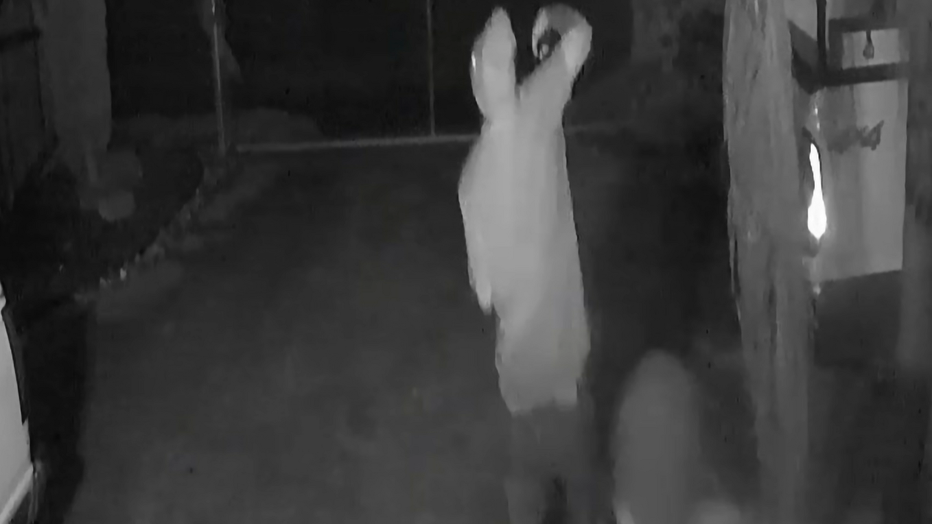 One of the shooters who killed six family members in Tulare County (Photo via Tulare County Sheriff's Office)
The other four people killed in the shooting were 72-year-old Rosa Parraz, 52-year-old Eladio Parraz Jr., 50-year-old Jennifer Analla and 19-year-old Marcos Parraz.
PREVIOUS: 
Released 911 audio from that night also captured the horror in the home during the attack.
In the audio, a woman is heard whispering as she tells the dispatcher about the attack.
"They just shot my boyfriend," the woman said. "And they keep shooting outside. They're still here I'm scared because they keep shooting outside." Seconds later the woman starts shouting at dispatchers. "Hurry, please. They're coming back. They're coming back in, the guys."
Two local gang members have been arrested for the shooting.
The suspects and members of the victims' family have a long history of gang violence but the motive for the shooting "is not exactly clear," according to Tulare County Sheriff Mike Boudreaux.