Trump's 'Chinese virus' comment sparks backlash against Asian American community
LOS ANGELES - As coronavirus continues to spread, some Asian Americans are reporting an uptick in racist incidents. 
Leaders like Congresswoman Judy Chu are calling out President Trump for his references to coronavirus as "The Chinese Virus." 
"We have already seen Asian Americans who have been treated with insults, dirty looks, those been refused hotel rooms, and even assaults. As President of the United States, he should take an active role in uniting all of us because it is clear it is not a virus that belongs to China nor any other country, it is a global pandemic," said Congresswoman Chu. 
A campaign called 'Wash the Hate' was launched by IW Group in Los Angeles to try to combat racism amid coronavirus fears. 
RELATED: CoronavirusNOW.com, FOX launches national hub for COVID-19 news and updates.
"Asian Americans are being randomly attacked on the street and 'blamed' for spreading the coronavirus. This is the last thing our community wants to worry about in the middle of a national emergency. The goal of #WashTheHate is to raise awareness about these incidents while demonstrating the true impact of the pandemic on our community," said Telly Wong, Chief Content Officer at IW Group. 
In Pasadena this weekend, the area near Colorado and Lake Avenue highlights why the campaign was created. In that area, a Mulan poster was vandalized. Someone spray-painted a mask on her, and the words "Toxic, Made in Wuhan." Josh Fleagane took a photo of the vandalism.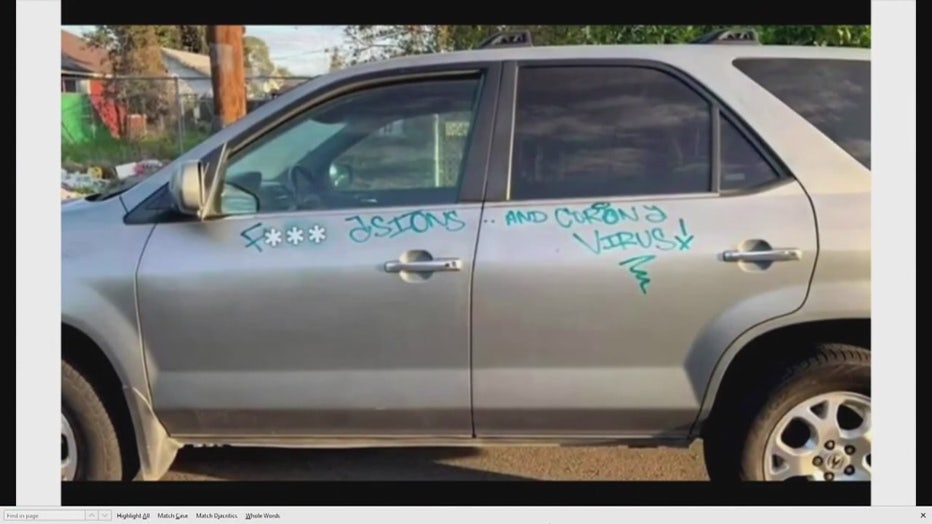 "You realize it's not just vandalism, it's obviously something that was very racist. This is obviously something that was racist, and done because of the coronavirus," said Fleagane. 
He said his own family is feeling the effects of coronavirus. His wife is Asian and his kids are mixed.
Get breaking news alerts in the FOX 11 News app. Download for iOS or Android.
"My wife, she grew up with some of that stuff and it's sad that here we are in 2020 and all it takes is something like this to really kind of bring a lot of that back," he said. 
Congresswoman Chu is banding together with other leaders to stop the stigma. She refers to WHO, which states it's not accurate to label a virus based on location either. 
"It is not the time to point fingers and use ugly insults," said Chu.