Truck backs into Tujunga hobby shop, thieves swipe basketball, Pokémon cards
LOS ANGELES - A hobby shop in the Tujunga neighborhood of Los Angeles was robbed last week and the shop is trying to find the thieves.
Kaptain Fish Collectibles posted surveillance video of the robbery to its Facebook page on March 19, saying that the store had been broken into "early morning today."
The timestamp of the video shows just before 5 a.m. when a white pickup truck is seen backing into the store's front door. Then, three people are seen running into the store, grabbing boxes off the back shelves and putting them in the flatbed of the truck.
One of the suspects was seen wearing mostly black, including a hoodie and a jacket; the second wore gray sweatpants and a white hoodie, and the third was wearing a gray top and dark pants.
"Sad to see something like this becoming a reoccurring trend in our hobby," the store said in the post. "We are working hard to catch the thieves and recover what we can. If you have any info regarding this please contact us."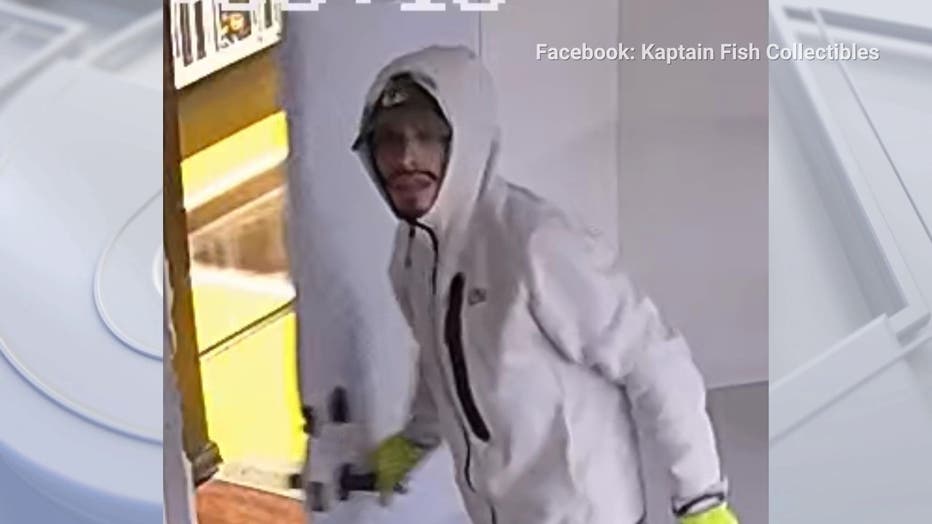 Photo via Facebook: Kaptain Fish Collectibles
In another Facebook post, the store shared a closeup photo from surveillance of one of the suspects. 
The store also shared a list of what it believes to have been taken, including boxes of baseball, basketball and Pokémon cards, as well as a graded Tom Brady card.