The Iron Sheik, WWE Hall of Famer, dead at 81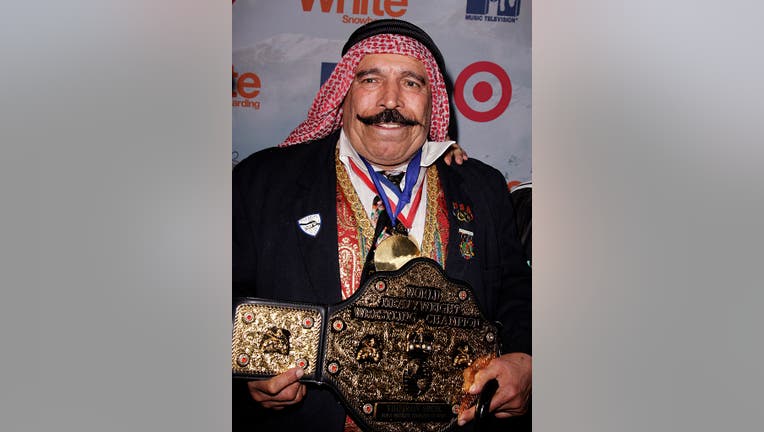 article
The Iron Sheik, a member of the WWE Hall of Fame, died Wednesday at the age of 81, according to his Twitter account. 
"Today, we gather with heavy hearts to bid farewell to a true legend, a force of nature, and an iconic figure who left an incredible mark on the world of professional wrestling," the statement said. "It is with great sadness that we share the news of the passing of The Iron Sheik, but we also take solace in knowing that he departed this world peacefully, leaving behind a legacy that will endure for generations to come."
The Iron Sheik, whose real name was Hossein Khosrow Ali Vaziri, had many legendary battles with wrestling greats Hulk Hogan, Bob Backlund and Sgt. Slaughter throughout his career, according to ESPN. 
A native of Iran, the Iron Sheik became a WWE champion in 1983 when he defeated Bob Backlund at Madison Square Garden. 
He lost the championship to Hogan a month later, a match that WWE says launched Hogan's illustrious career. 
"With his larger-than-life persona, incredible charisma, and unparalleled in-ring skills, he captivated audiences around the globe," the statement continued. "He was a trailblazer, breaking barriers and paving the way for a diverse range of wrestlers who followed in his footsteps."
The Iron Sheik was inducted into the WWE Hall of Fame in 2005. 
"With his imposing physique, curled boots and dreaded Camel Clutch finishing hold, The Iron Sheik's larger-than-life personality and natural gift for inciting crowds across the globe helped him become one of the greatest villains in sports-entertainment history," the WWE said. "Yet, over time that awe-inspiring showmanship not only earned the respect of his peers, but the WWE Universe as a whole, making him a beloved figure. The Iron Sheik first excelled in the world of Greco-Roman Wrestling, competing in the Amateur Athletic Union and becoming a gold medalist at 180.5 pounds in 1971." 
He was married to his wife, Caryl, for 47 years, and is survived by his children Tanya, Nikki and Marissa, and son-in-law Eddie, according to The Iron Sheik's Twitter account.