Texas Gov. Greg Abbott shares fake article about Garth Brooks getting booed for being 'woke'
Texas Governor Greg Abbott shared and quickly deleted a fake news article about country singer Garth Brooks over the weekend while trying to make a point about what he considers "woke" politics from the musician.
Abbott retweeted the story which said Brooks was booed off the stage at the 123rd Texas Country Jamboree in the city of Hambriston. Both the festival and city are fake.
"Go Woke. Go Broke" said the governor in the post from his personal Twitter account. "Garth called his conservative fans 'a**holes.' Good job Texas'.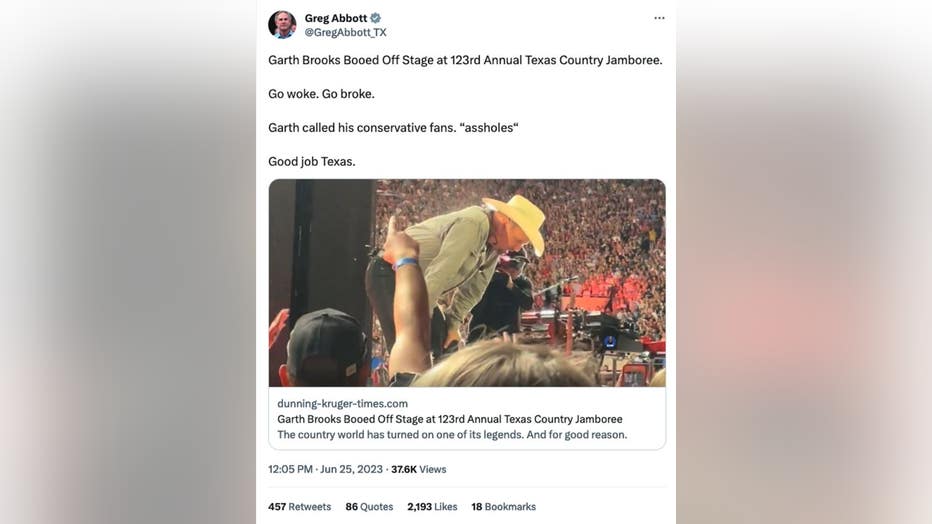 The now-deleted tweet from Governor Greg Abbott's personal Twitter account Sunday.
The article was posted on the parody site the Dunning Kruger Times and was written by someone with the penname 'Flagg Eagleton.'
Governor Abbott deleted the tweet shortly after people pointed out it was a fake article.
Garth Brooks has come under fire from some conservatives after the country singer announced that his bar will serve Bud Light beer, despite the controversy with the brand teaming up with transgender influencer Dylan Mulvaney.
The About Us page of the Dunning Kruger Times reads, "Dunning-Kruger-Times.com is a subsidiary of the "America's Last Line of Defense" network of parody, satire, and tomfoolery, or as Snopes called it before they lost their war on satire: Junk News."
"Everything on this website is fiction. It is not a lie and it is not fake news because it is not real. If you believe that it is real, you should have your head examined. Any similarities between this site's pure fantasy and actual people, places, and events are purely coincidental and all images should be considered altered and satirical."
The website's name comes from the so-called Dunning-Kruger effect in psychology.
Psychology Today defines the Dunning-Kruger effect as, "a cognitive bias in which people wrongly overestimate their knowledge or ability in a specific area. This tends to occur because a lack of self-awareness prevents them from accurately assessing their own skills."
Governor Abbott has not publicly commented about the post.