Tesla flies off 10 Freeway in Los Angeles, crashes into homeless encampment below
LOS ANGELES - At least four people were injured after a Tesla flew off the 10 Freeway in West Los Angeles and landed on a homeless encampment overnight, officials said.
The crash was reported around 2:25 a.m. Wednesday on the westbound side of the 10 Freeway at the National Boulevard exit in the Cheviot Hills area.
Witnesses said the high-tech vehicle flew off the freeway, down an embankment, and crashed into a homeless encampment where officials with the Los Angeles Fire Department said at least two people had been sleeping.
The two experiencing homelessness apparently took off from the scene and didn't stick around to be triaged by paramedics. 
It's unclear how many women were inside the Tesla. However, fire authorities said at least three were taken to the hospital in critical condition, while a fourth woman suffered minor injuries.
SUGGESTED: Tesla 'Autopilot' crashes and fatalities surge, despite Musk's claims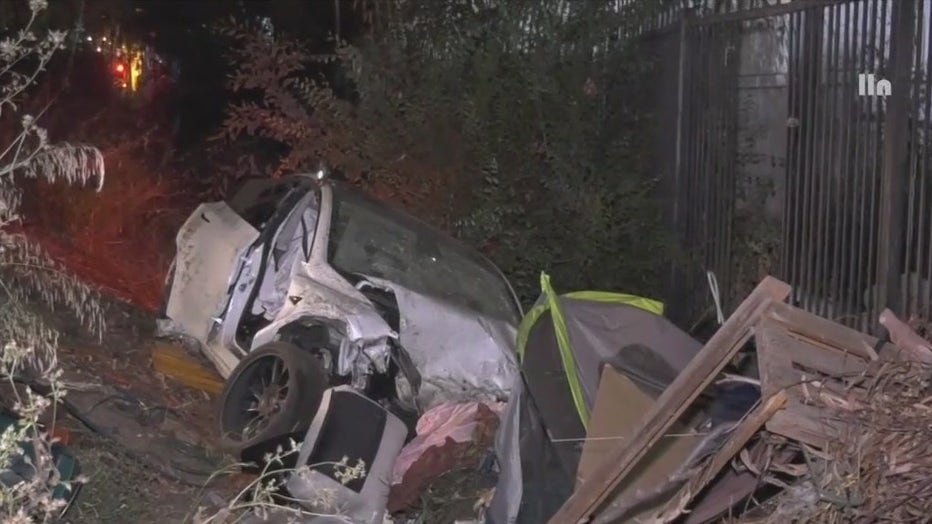 A passenger told FOX 11 the driver was sober and that they were on their way to a friend's house.
The cause of the crash is under investigation.