Study: Gas stoves can raise indoor levels of benzene to above what's found in secondhand smoke
A chemical linked to a higher risk of leukemia and other blood cell cancers can leak into homes when a resident uses their gas stove, according to a newly-published study – which adds to the growing health concerns over the common kitchen appliance and further fuels an ongoing political debate over their regulation.
The Stanford-led study, published on June 15 in Environmental Science & Technology, found that using a single-gas cooktop burner on high, or a gas oven set to 350 degrees Fahrenheit, can raise indoor levels of the carcinogen benzene above those in secondhand cigarette smoke.
The study included 87 homes across California and Colorado and found that natural gas and propane stoves emitted "detectable and repeatable levels of benzene" that reached indoor concentrations above well-established health benchmarks. 
Long-term exposure to high levels of benzene in the air can cause leukemia, a cancer of the blood-forming organs, according to the Centers for Disease Control and Prevention. 
The results of the study also suggest that benzene can also drift throughout a home and linger for hours in the air.
"Benzene forms in flames and other high-temperature environments, such as the flares found in oil fields and refineries. We now know that benzene also forms in the flames of gas stoves in our homes," study senior author Rob Jackson, the Michelle and Kevin Douglas Provostial Professor and professor of Earth system science at the Stanford Doerr School of Sustainability, said in a statement. 
"Good ventilation helps reduce pollutant concentrations, but we found that exhaust fans were often ineffective at eliminating benzene exposure," Jackson added.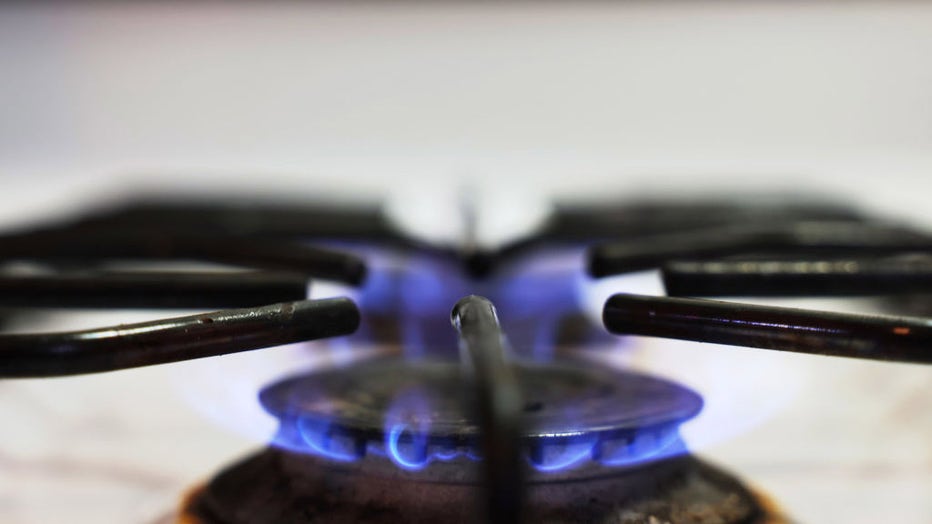 FILE - In this photo illustration, a flame burns on a gas stove on April 28, 2023 in New York City. (Photo Illustration by Michael M. Santiago/Getty Images)
The research was the first to analyze benzene emissions when a stove or oven is in use, according to the study authors, who noted how previous studies focused on leaks from stoves when they're off and didn't directly measure resulting benzene concentrations.
'Worse than secondhand smoke,' study suggests
In 29% of the homes measured, a single gas burner on high or an oven set to 350 degrees Fahrenheit raised kitchen benzene concentrations above the upper range of indoor benzene levels attributable to secondhand tobacco smoke.
The researchers also found that benzene can migrate into other rooms far from the kitchen, and that concentrations measured in bedrooms can exceed national and international health benchmarks. 
Additionally, they found that residential range hoods are not always effective at reducing concentrations of benzene and other pollutants, even when the hoods vent outdoors.
The researchers found that gas and propane burners and ovens emitted 10 to 50 times more benzene than electric stoves in the study, while induction cooktops emitted no detectable benzene. 
The study also included tests on whether foods being cooked emit benzene and found zero emissions from pan-frying salmon or bacon. All detectable benzene emissions in the study came from the fuel used, rather than any food cooked.
Previous research on gas stoves and political debate
Earlier studies have suggested that gas-burning stoves in U.S. homes leak methane, as well as exposing individuals to pollutants like nitrogen dioxide, which can trigger respiratory diseases. 
A meta-analysis published in 2013 found that children who live in homes with gas stoves had a 42% greater risk of asthma than children living in homes without gas stoves. In 2022, another study suggested that 12.7% of childhood asthma in the U.S. could be attributable to gas stoves.
In January, the Consumer Product Safety Commission said that "any option is on the table" when it comes to regulating gas stoves, prompting fears of a nationwide ban and online images of the government dragging four-burner cooktops from homes.
Debate was also sparked after the Energy Department proposed a rule requiring both gas and electric stoves and cooktops to use more efficient designs and technologies.
That rule, which has not yet been finalized, could ban about half of gas stove models currently sold in the United States as of 2027, according to a department analysis. The rule would apply only to sale of new appliances and would not affect stoves already in homes or businesses.
Meanwhile, dozens of Democratic-controlled cities, including San Francisco and Berkeley, California, have moved to ban new buildings from using gas stoves as a way to reduce greenhouse gas emissions and improve indoor air quality. New York state approved a law last month banning natural gas stoves and furnaces in most new buildings.
The issue of gas stoves has also become somewhat politicized in Washington. Earlier this month, the Republican-controlled House approved legislation that GOP lawmakers say would protect gas stoves from overzealous government regulators.
Specifically, the bill would prohibit use of federal money to regulate gas stoves as a hazardous product, while a separate measure endorsed would block the Energy Department rule setting stricter energy efficiency standards for stovetops and ovens.
The White House said the administration "has been clear that it does not support any attempt to ban the use of gas stoves,″ but GOP lawmakers say rules on gas stoves represent classic government overreach.
"It's not a petty concern to the hard-working Americans who will be impacted,″ said Rep. Tom Cole, R-Okla. "The last thing they need is to have the Biden administration's Green New Deal regulatory assault reach their kitchen appliances."
The bill targeting regulation of gas stoves as hazardous was approved, 248-180, while the measure blocking the Energy Department rule was approved 249-181. Twenty-nine Democrats joined Republicans in supporting both bills.
President Joe Biden opposes both GOP bills as blocking "common-sense efforts to help Americans cut their energy bills,″ the White House said in a statement. Neither bill was expected to advance in the Democratic-controlled Senate.
This story was reported from Cincinnati. The Associated Press contributed.