Stalker from Texas kills podcaster and her husband in their Washington home, police say
REDMOND, Wash. - Three people are dead after a suspected stalker broke into a Redmond, Washington home and killed a podcaster and her husband, police said. The woman's mother survived the attack, escaped and called 911.
The shooting happened at a home on 166th Street Northeast and Northeast 89th Street before 2:00 a.m. Friday.
According to Redmond police, officers responded after a woman called 911 at a neighbor's home to report about a "stalking situation."
When officers arrived at the scene, they found a 35-year-old man, who lived at the home, in the front yard, and he had been fatally shot in the chest.
When officers entered the home, they found the man's 33-year-old wife, Zohreh Sadeghi, and the suspected stalker dead. They both died after being shot.
Investigators said the suspect shot the husband, 35-year-old Mohammad Naseri, and Sadeghi, before apparently taking his own life. 
The woman who called 911 was Sadeghi's mother, who lived with the couple.
Police told FOX 13 the suspect broke a window to get inside the home, and the mother fought the suspect, escaped and ran over to the neighbor's house to call for help. It's unknown if she was injured.
The Redmond Police Department's Jill Green told FOX 13 the suspect had been stalking Sadeghi "for some time" and had a no-contact restraining order against him.
"A restraining order is simply a piece of paper that allows officers to take enforcement action should a suspect violate the court order. But a piece of paper does not protect a person when someone is intent on causing them harm," said Redmond Police Chief Darrell Lowe.
Police identified the suspect as 38-year-old Ramin Khodakaramrezaei, a long-haul trucker from Texas.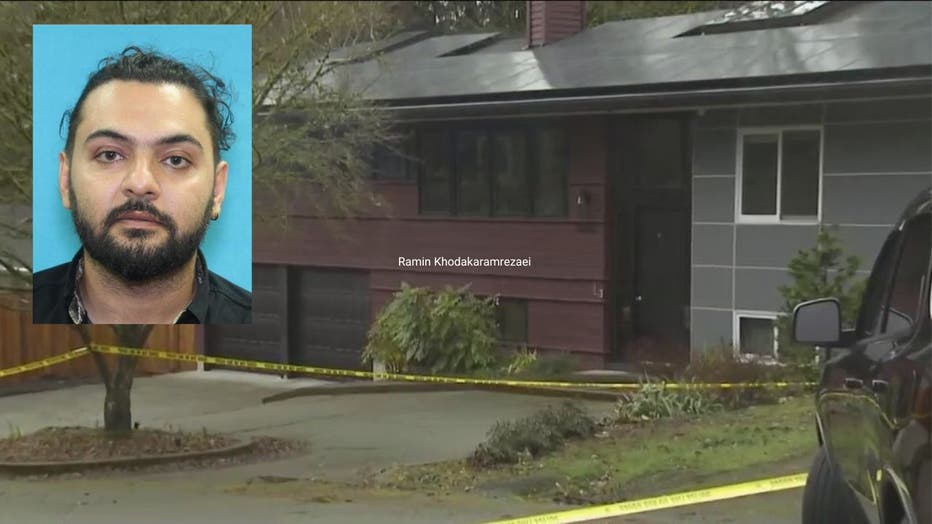 Ramin Khodakaramrezaei of Texas was facing stalking and harassment charges before a shooting left both victims and the suspect dead in a home in Redmond, Washington, early Friday. (Redmond Police)
Lowe said investigators first became aware of the crazed stalker in December 2022 and worked closely with the family. A protection order was filed with the city attorney, with a hearing scheduled for March 17. However, Lowe said it was challenging serving the order to the suspect he was a long-haul truck driver always traveling the country for work.
"It was difficult to pin him down to location. It wasn't as though he was local and he had a local address to where we could either do surveillance or find him, serve the protection order, etc. He was in a different state, traveled across the country as part of his employment. So, that was the biggest challenge," said Lowe.
The police chief explained Sadeghi and suspect met on an app called Clubhouse, a podcast chat app for people looking for employment in the tech industry. Green said when things escalated, she filed the no-contact order against him to "disengage." Because of his profession as a trucker, officers were unable to locate him and serve the protection order. 
According to the protection order against him, the woman met him in June of 2022 and the constant and harassing messages and calls started shortly after. The order claims that Khodakaramrezaei would leave several messages a day and a week, and would contact friends of the woman. He also was able to obtain her address and the addresses of her friends, despite never being told them, according to the order. 
Several times, he threatened to burn himself outside her home if she didn't see him. 
"He said the only way he would stop contacting me is if he died. That is also in the voice messages he keeps sending me, that he won't let me go and the only thing that will make all this stop is if he killed himself or died," the woman wrote in her petition to get the no-contact order. 
The medical examiner's office said both Sadeghi and Naseri died of gunshot wounds, and their manner of death was homicide. Sadeghi was shot multiple times and Naseri died of a gunshot wound to the torso, according to the medical examiner's office. 
Court records from Texas show Khodakaramrezaei leaves behind a 7-year-old daughter, who is living with his ex-wife.
Documents for the petition for the no-contact order indicated that Khodakaramrezaei has a history of domestic violence with his ex-wife. 
The medical examiner arrived at the scene later Friday morning.
"Our hearts go out to the victim's family and the Redmond community following this horrific tragedy," said Redmond Police Chief Darrell Lowe. "This is an incredibly sad situation and the worst possible outcome of a stalking case. We will continue investigating what led to this tragic loss."
The investigation remains ongoing.