Sheriff's release bodycam video of chase, shooting that left suspected deputy killer dead
NORCO, Calif - The Riverside County Sheriff's Department released body and helicopter camera footage Tuesday of the chase that left a man accused of killing a deputy dead.
The incident happened on Dec. 29, 2022. That afternoon, Riverside County Sheriff's Deputy Isaiah Cordero was shot and killed during a traffic stop in Jurupa Valley. Cordero tried to stop a vehicle in the 3900 block of Golden West Avenue, according to the department, and as he approached the vehicle, the driver, identified as 44-year-old William Shae McKay, opened fire, killing him.
McKay drove away from the scene, prompting a massive manhunt in the Inland Empire. Just over an hour later, a Beaumont Police Department officer located McKay near Rancho Cucamonga, leading to a massive police chase through San Bernardino and Riverside counties. 
PREVIOUS COVERAGE: Riverside Co. deputy fatally shot in Jurupa Valley, suspect killed following pursuit on 15 Freeway
Sheriff's helicopter footage released from the chase showed dozens of law enforcement vehicles chasing McKay's pickup truck, including armored vehicles. Deputies used both spike strips and PIT maneuvers to try and bring McKay to a stop, but he continued on. According to Riverside County Sheriff Chad Bianco, it was a "mechanical malfunction" that caused McKay's truck to swerve across all lanes of the freeway and eventually come to a stop under the 5th Street overpass of Interstate 15 in Norco. That's when deputies said McKay started shooting.
The RCSD released body camera footage from five deputies involved in the shooting. While the videos don't show much besides deputies crouched behind cruiser doors, dozens of were heard before a call of "Hold your fire." In the footage, an armored vehicle could be seen pinning McKay's truck to the side of the interstate.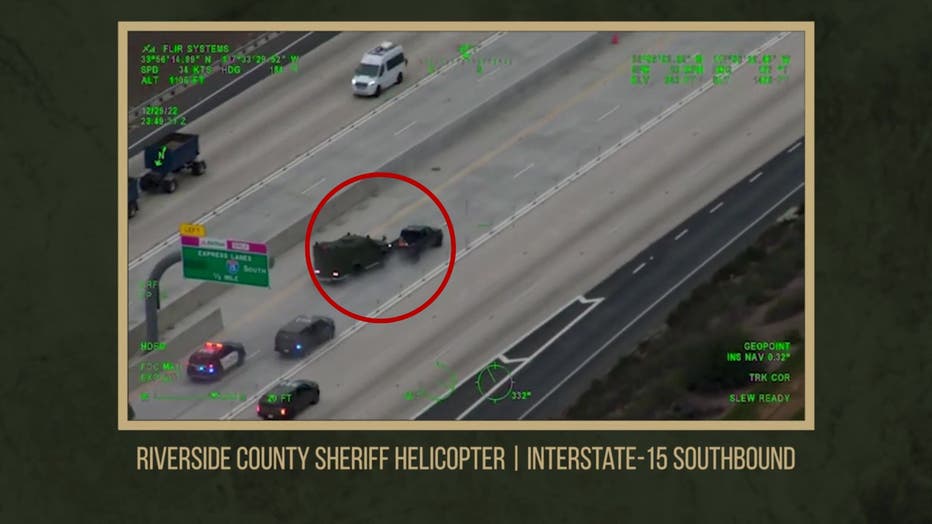 Helicopter video of a pursuit involving a driver accused of murdering a Riverside County Sheriff's Deputy.
McKay was later pronounced dead at the hospital.
PREVIOUS COVERAGE: Remembering Isaiah Cordero: Slain deputy laid to rest 
Investigators found that at the time of the shooting, McKay had an active felony warrant for failing to appear on a case involving a kidnapping and stabbing of a CHP K-9, and was out on bail.
In an interview with FOX 11 last month, Bianco said McKay had a lengthy criminal history dating back to the 1990s and believed McKay should have been in jail, not on the streets.
SUGGESTED: Accused Riverside Co. deputy killer convicted of 3rd strike but judge let him back on streets, Sheriff says
"McKay has an extensive violent past and was convicted of his third strike in November 2021. That case involved kidnapping and assault with a deadly weapon," Bianco said.
He added that Cordero's death could have been prevented by the legal system. The sheriff accused a San Bernardino County judge of lowering McKay's bail and then letting him back on the streets instead of sentencing 25 years to life behind bars.
Deputy Cordero was one of two Riverside County Sheriff's deputies killed in the line of duty in just over two weeks around the turn of the new year.