San Francisco Controller report finds nearly half of commercial sidewalks had feces in 2022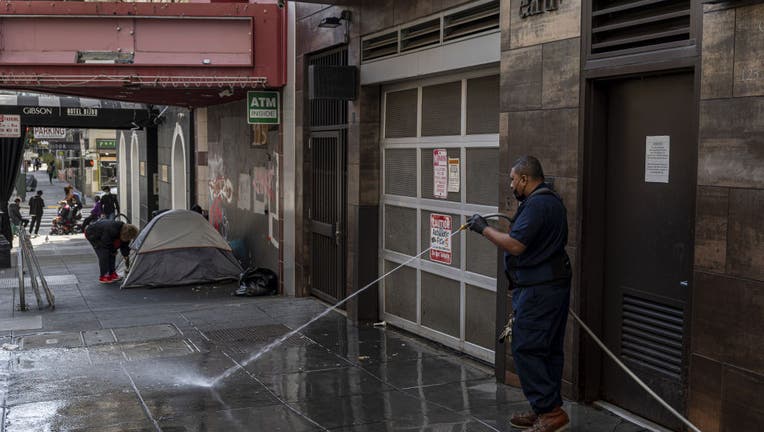 article
SAN FRANCISCO, Calif. - A newly released report out of the San Francisco Controller's office found nearly half of the city's commercial sidewalks had feces on them in 2021 and into 2022.
The chief accounting officer and auditor of the city and county released their annual "Street & Sidewalk Maintenance Standards" report on Monday detailing just how pervasive uncleanliness was in the city.
The report is the result of two surveys which evaluated over 3,000 streets and sidewalks in 2021-2022 for cleanliness and the appearance of maintenance. Cleanliness was rated based on the presence of "litter, graffiti and broken glass." The Core Citywide Survey looked at residential areas and the Key Commercial Areas Survey looked at public sidewalks and streets particularly in the downtown region.
Broken glass and feces were the two most common health hazards found citywide. "Broken glass was the most commonly observed hazard, on approximately 50% of surveyed streets and sidewalks," the report stated. "Feces was another notable observed hazard, on approximately 50% of street segments in Key Commercial Areas and 30% in the Citywide survey."
While commercial areas fared worse overall, with 67% of public sidewalks having litter, and 58% with broken glass, some residential neighborhoods also reported an alarmingly high presence of public health hazards.
SUGGESTED: Zero-bail policy reinstated for LA County
Author and journalist Michael Shellenberger noted that researchers found 90% of the streets and sidewalks in one of the wealthiest neighborhood in the city had feces.
"In one of the richest neighborhoods, referred to as 'Snob Hill,' researchers found that nearly 90% of the sidewalks had feces on them," he tweeted. 
Other districts like the Tenderloin, the Mission and South of Market also struggled with the presence of feces.
A Tenderloin resident told The San Francisco Standard his neighborhood was covered in feces.
"It's terrible; this street is covered," Joe Souza said. "There's poop everywhere. You always see it along the wall and in front of the garage there." 
Shellenberger claimed in a follow-up tweet that the city paid almost 100 million dollars to clean up its streets in 2019.
Both surveys also found that sidewalk pavement was in poor condition in 75% of the evaluated areas citywide. 90% of city transit shelters in commercial areas had a cleanliness issue, "such as litter, broken glasses, or illegal dumping," and 71% of commercial streets and sidewalks had graffiti. 
The Controller's Office said it will continue to work with SF Public Works, the government agency in charge of cleaning up city streets, as survey results show further research is needed.
"This collaborative process with SF Public Works will drive deeper analytical work that aims to support operational decisions. Year-over-year results will be annually reported to track the trend in cleanliness over time," the report states.
While the city struggles to keep its streets clean, a reparations committee has proposed giving $5 million dollar payments to each eligible Black resident, which could cost the city over $100 billion dollars, according to the New York Times.