Driver hits pedestrians in West Hollywood crosswalk
WEST HOLLYWOOD, Calif. - Deputies in West Hollywood are searching for the driver of a Mini Cooper who was caught on dashcam footage plowing into multiple pedestrians in a crosswalk Sunday morning, even driving off with one of the pedestrians still on the hood of the car. 
It happened around 2 a.m. Sunday, at the intersection of Santa Monica Boulevard and N. San Vicente Boulevard. 
In the video, a Mini Cooper is seen moving right, from the left turn lane in front of Anton Strubchevskyi's car, into the crosswalk, where multiple people were crossing the street. A pedestrian then ran up to the Mini Cooper, smacking the back window which then shattered. After that, the driver then continued through the intersection, spun around to the left  and hit three people in the crosswalk, continuing off with one person still stuck on the Mini Cooper's hood.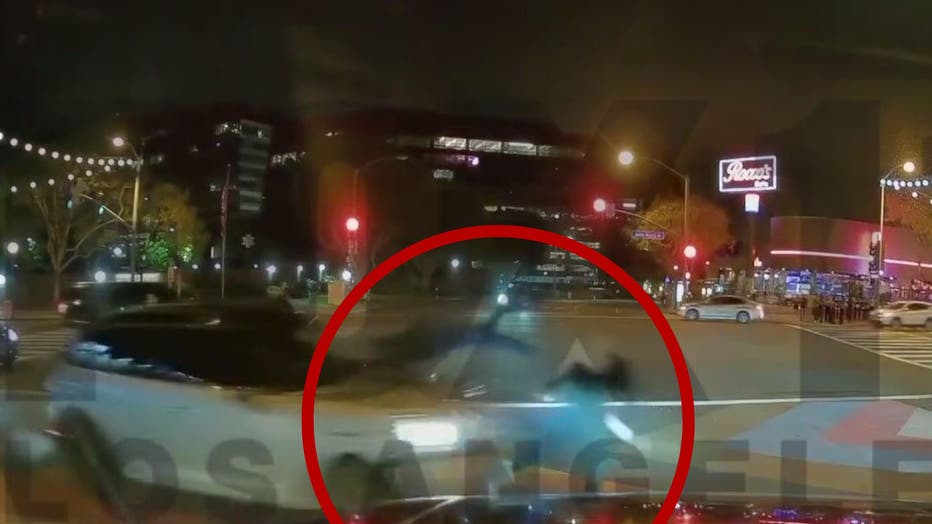 SUGGESTED: Road rage suspect caught on camera arrested in Garden Grove
"I was in shock. I didn't have time to think what's happening," Strubchevskyi said. "Because it's like two, three seconds, boom. Something happening on the street. Wild driving, people flying around, one person on top of another car driving away. It's just like a movie, you know? It's crazy."
Three people were sent to the hospital, all of whom are expected to recover. Strubchevskyi said he gave the dashcam footage to the West Hollywood Sheriff's Station, which sits across the street from where this all happened, minutes after the crash. Anyone with information on the crash or the driver was asked to call the department at 310-855-8850.