'Rent-a-chicken' service gives you a coop, complete with birds, for your own farm-fresh eggs
LOS ANGELES - It's no secret that skyrocketing egg prices across the country are prompting many people to perhaps cut back on egg consumption or find alternatives to combat the increasing costs. 
One such alternative that's gaining traction nationwide is renting your own chickens for your own personal stash of eggs and bypassing the extra dollars from buying in store. 
Enter "Rent the Chicken," which is exactly what it sounds like - a rental service with locations across the U.S. allowing people to rent two or four egg-producing hens for up to six months. The service comes with your own chicken coop for your backyard. 
In Los Angeles County, Lively Little Farm in Agua Dulce is the only designated affiliate authorized to distribute chickens as part of the Rent the Chicken service.
RELATED COVERAGE:
For $575, a 6-month rental, you can get a coop, feeder, water, food and two hens. 
"Lively Little Farm's mission is to connect people with their food, their community, and the land we share by bringing small-scale agriculture into homes and neighborhoods," Lively Little Farm's description reads on the Rent-a-Chicken website.
Operated by Homestead Victoria and Ryan, the 2.5-acre farm serves the greater Los Angeles area. The region is split into three zones and each offers different pricing based on location. Delivery is free within all three zones.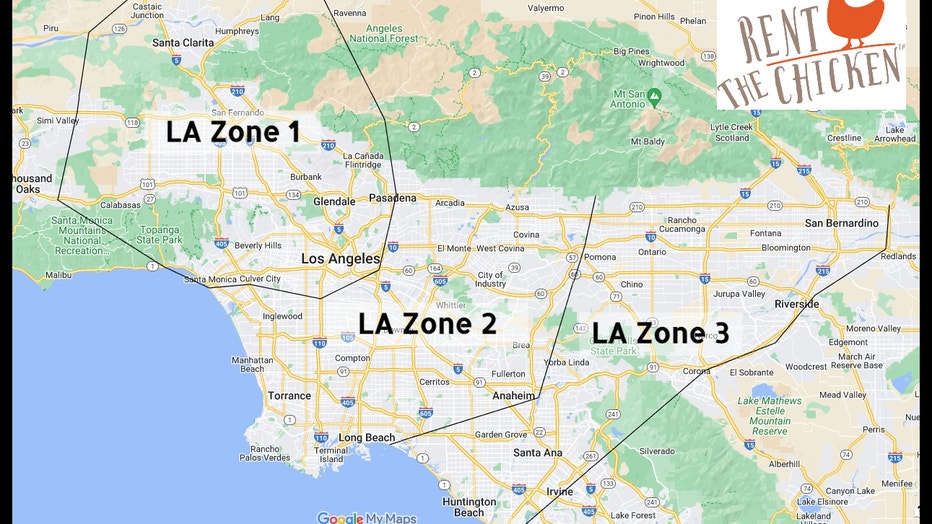 Here are the price breakdowns by zone:
Zone 1 - $225
Zone 2 - $255
Zone 3 - $285
Each package includes five-week indoor rental based on availability, delivery, setup, and pickup, mini incubator, seven fertile eggs, a "candling light" for the incubation period, starter kit complete with chick feed, brooder box and all the necessary fixings, as well as an instruction booklet. 
Depending on your specific egg needs, renters can choose to house either two or four chickens. On average, two chickens will produce eight to 14 eggs per week, while four will produce 16 to 28 eggs per week.
Currently, rental packages include free delivery within 50 miles of the 91390 Agua Dulce zip code. Quotes are available for those who live outside any of the three zones.
In LA County, most cities allow backyard chickens with the stipulation that chicken coops must be at least 35 feet from a neighboring structure and 100 feet if you have a rooster.
Depending on where you live, there may be other rules, like how many chickens you're allowed to have. Those interested in getting backyard chickens are advised to check their local city regulations before moving forward.
An average hen can lay up to six eggs per week. 
A lingering bird flu outbreak, combined with soaring feed, fuel and labor costs, has led to U.S. egg prices more than doubling over the past year, and hatched a lot of sticker shock on grocery aisles.
The national average price for a dozen eggs hit $3.59 in November, up from $1.72 a year earlier, according to the latest government data. 
But egg prices are up significantly more than other foods — even more than chicken or turkey — because egg farmers were hit harder by the bird flu. More than 43 million of the 58 million birds slaughtered over the past year to control the virus have been egg-laying chickens, including some farms with more than a million birds apiece in major egg-producing states like Iowa.
But even with the cost increases, eggs remain relatively cheap compared to the price of other proteins like chicken or beef, with a pound of chicken breasts going for $4.42 on average in November and a pound of ground beef selling for $4.85, according to the Bureau of Labor Statistics.
The Associated Press contributed to this report.