Winter storm brings rain, snow, high surf to Southern California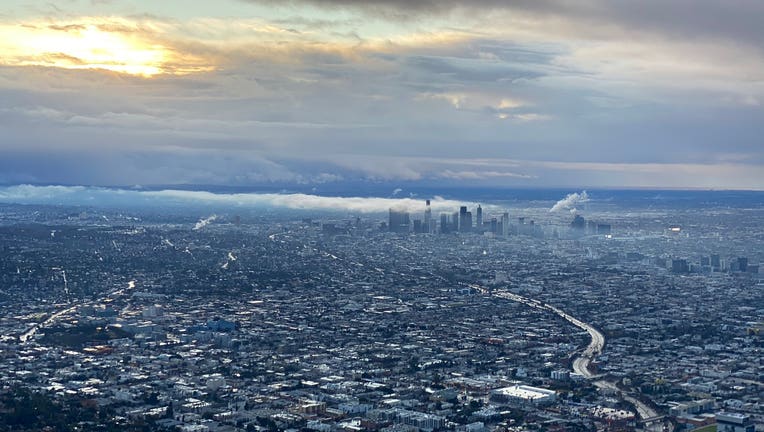 article
LOS ANGELES - Southland residents awoke to rain, wet roads, sporadic flooding and mountain snow today as the first major storm of the season brought a taste of winter to the region, and forecasters said scattered showers will continue through the afternoon before the system moves away.
Lightning flashed and thunder pounded as the storm front swept across the region in the middle of the night, unleashing downpours followed by bands of rain that were expected to continue through the afternoon.
"The good news was the front was moving quickly which prevented any serious flooding from occurring," the National Weather Service's Los Angeles region office said.
Although rain fell seemingly throughout the night in some parts of the basin, as of early Monday morning the National Weather Service indicated that most of Los Angeles County had received less than an inch of precipitation. But the isolated showers expected into Monday evening might change that.
Portions of Santa Barbara and San Luis Obispo counties were hit harder, with some areas receiving more than an inch-and-a-half of rain. For those looking for a trip to the mountains, Mountain High received up to 10 inches of snow, while Pine Mountain had about 6 inches. Lower-elevation Frazier Park received about 4 inches.
There were reports of some flooding overnight, including on the 10 Freeway in El Monte. Forecasters also warned of a continued possible threat of debris slides in recent burn areas, saying some areas could get brief downpours that could trigger slides, particularly later in the day Monday.
 
Get your top stories delivered daily! Sign up for FOX 11's Fast 5 newsletter. And, get breaking news alerts in the FOX 11 News app. Download for iOS or Android.
Snowfall accumulations in the region's mountains were expected to range from 6 inches to 12 inches (15.2-30.4 centimeters) at elevations above 5,000 feet (1,524 meters).
The system also brought snow to the Sierra Nevada and showers to parts of Northern California on the heels of a Christmas Day storm.
Around 6 inches of snow is expected by Monday in the mountains, with the snow level at about 5,000 feet. About 1 inch of snow is expected in the higher foothills of the Antelope Valley.
The storm came as a surprise to Los Angeles Lakers star, LeBron James.
Temperatures also dropped precipitously Monday, with highs only reaching 57 degrees in downtown Los Angeles, the low to mid-50s in the San Fernando Valley and Orange County, and 49 in Lancaster.
As a result of the storm, Orange County Parks said trails at Carbon Canyon, Santiago Oaks, Peters Canyon Irvine and Mason regional parks, Riley, Aliso & Wood, Laguna Coast, O'Neill and Whiting Ranch wilderness parks were closed due to wet and muddy conditions.
A high surf advisory will be in effect at areas beaches until Wednesday morning.
The rain is expected to clear out by Tuesday, but temperatures will remain on the lower side. A cold weather alert is in effect through Wednesday for Lancaster, through Tuesday for Mount Wilson, and Tuesday and Wednesday for the Santa Clarita Valley. Near-freezing or freezing temperatures are expected overnight in those areas.
The Associated Press contributed to this report.