Prosecutors' union files civil lawsuit over Gascón's new directives
LOS ANGELES - The union representing Los Angeles County prosecutors filed a lawsuit against District Attorney George Gascón, alleging that his special directives to get rid of sentencing enhancements and strikes are violating the state law.
Now, the union is asking a judge to step and put a stop to Gascón's sweeping policy changes.
Since taking office, the new DA has encountered a lot of internal resistance to his new reforms. But Wednesday's lawsuit took things to another level.
PREVIOUS COVERAGE: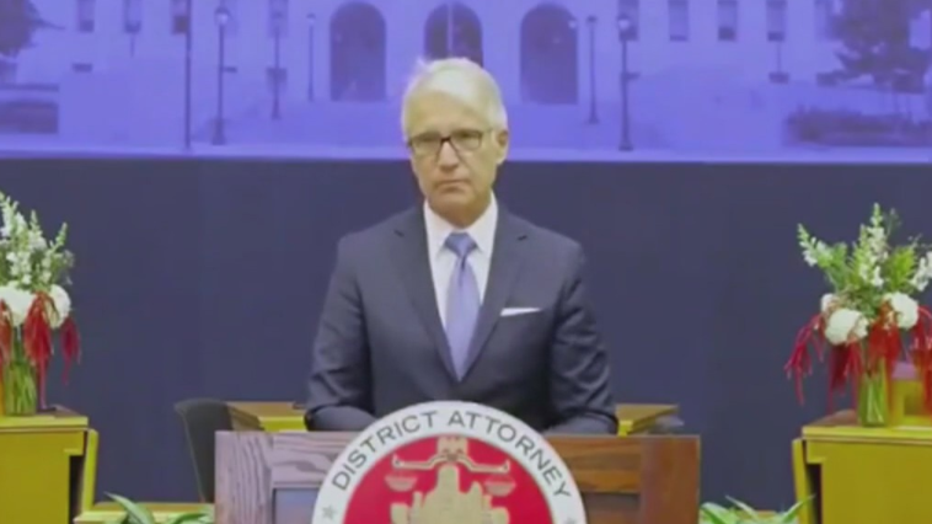 Gascón is now being sued by the union representing his own prosecutors, who say they feel like they have to choose between following the law and following their boss' orders.
Eric Siddal is the Vice President of the Los Angeles Association of Deputy District Attorneys, the union representing the roughly 800 prosecutors in the DA's office.
"This is not a position we wanted to be in," Siddal said. "We filed this lawsuit because we want to make sure that our members don't have this terrible choice of, 'Do we follow the law or do we follow what our boss is saying?' And that's really what it comes down to."
Gascón issued a series of special directives immediately upon taking his oath of office, ordering his prosecutors to no longer pursue special allegations, sentencing enhancements, gang enhancements or great bodily injury enhancements. He also ordered the deputy DA's to stop prosecuting strikes, and that's where the union is taking issue.
RELATED: 
According to their lawsuit, Gascón's special directives violate the three strikes law by prohibiting prosecutors from pleading and providing prior convictions in new cases. California's three strikes law was passed overwhelmingly by over 70% of voters in 1994 via Proposition 184.
The law established Penal Code, Section 1170.12, which states in part: "In every case in which a defendant has one or more prior serious and/or violent felony convictions, the prosecuting attorney shall plead and prove each prior conviction."
"The strike law says that we shall prove and plead out strikes. This DA has said that we're not gonna do that. Well, the problem is, the voters, you the voters, and the legislature, have approved this law," Siddal said.
But Gascón sees things differently. He wrote in his special directive that it is the opinion of this office that Penal Code sections 1170.12 and 667 are unconstitutional and that California law gives the DA sole authority to decide who to charge, what charges to pursue and what punishment to seek. Gascón said he's willing to take that opinion to court.
"If we need to challenge the constitutionality of state law, we're going to do so," Gascón said.
But Siddal tells FOX 11 that the three strikes law has been upheld in court as constitutional multiple times and the law is clear.
"Look, this is basic civics. The DA is there to enforce the law. He's not there to make the law, whether he has a personal disagreement with the law is irrelevant. The real issue is, he's there to follow the law, he can't force us to disobey our oath and the law," Siddal said.
In response to the lawsuit, Gascón released the following statement, in part:
"Enhancements and strike allegations have never been shown to enhance our safety. As your elected District Attorney, I have asked deputy D.A.'s entering an appearance 'for the people' to end excessive sentencing practices. After a summer of unrest, Los Angeles County voters embraced this new, modern approach. We all want the same things – safety and equal justice under the law. Despite today's legal challenge, I believe a collaborative path exists to achieve these goals based on what research shows, what voters want, and what L.A. County deserves."
In court on Wednesday, a judge ordered Gascón to show cause as to why an injunction shouldn't be granted to restrict him from enforcing his special directives. Gascón has until January 15 to respond in writing. A hearing is set for February 2.
Get your top stories delivered daily! Sign up for FOX 11's Fast 5 newsletter. And, get breaking news alerts in the FOX 11 News app. Download for iOS or Android.