Hit-and-run suspect in custody after LASD chase ends in Whittier
LOS ANGELES COUNTY, Calif. - A hit-and-run suspect is in custody after leading the Los Angeles County Sheriff's Department on a brief police chase Saturday night in the Norwalk area of Los Angeles County.
Reports of the pursuit came in just before 10 p.m. Saturday night. The driver was allegedly wanted in connection with a hit-and-run collision in the area. 
The driver led deputies onto surface streets in the Whittier area, eventually getting turned around in a cul-de-sac. That's when deputies threw a spike strip at the vehicle. The strip appeared successful as the wheels of the vehicle immediately began to smoke, and the car slowed to a grinding halt.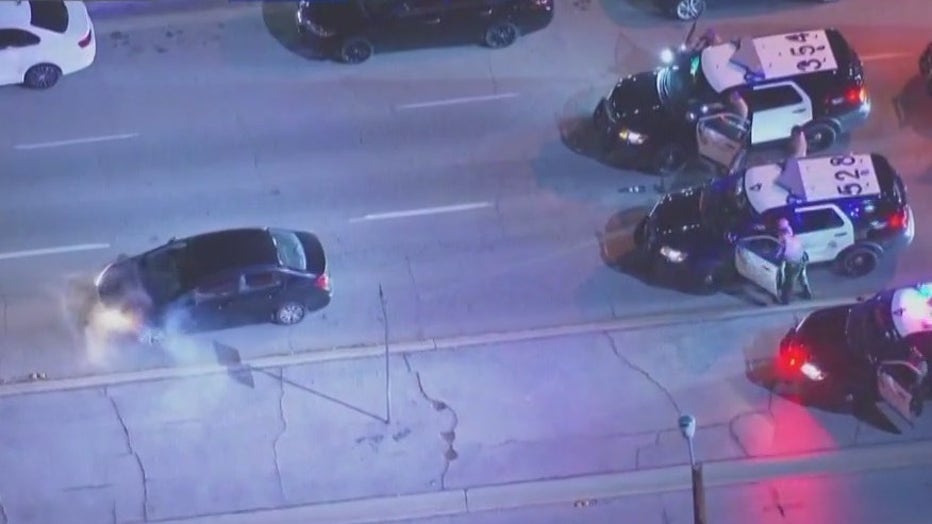 Over the course of the next several minutes, the driver appeared to exit the car on several occasions before ultimately getting back into the car. Deputies then pinned the vehicle in on the side of Mulberry Drive and Ruoff Avenue. 
It did appear the driver through several things out of the vehicle, before ultimately getting out of the car. The driver appeared to be limping as they got out the vehicle. Deputies then took the driver into custody.
Another person was taken into custody near the scene where the chase came to an end, but their connection to the chase or the driver, if any, was not immediately clear.