Neighbors from tight-knit Yorba Linda community help fire crews battle Blue Ridge Fire
YORBA LINDA, Calif. - A group of neighbors from a tight-knit neighborhood in Yorba Linda worked alongside fire crews Monday evening to battle flames from the Blue Ridge Fire.
Sean Callahan said he was there for the fire in the community back in 2008, and was ready to help his neighbors on Monday.
"We hopped back into action like we did with all the neighbors [in 2008] that aren't going to let their neighbors down," said Callahan.
Callahan's dad lives in the neighborhood near Blue Ridge Drive. When the fire started, he and a group of his friends and neighbors started hosing down the area.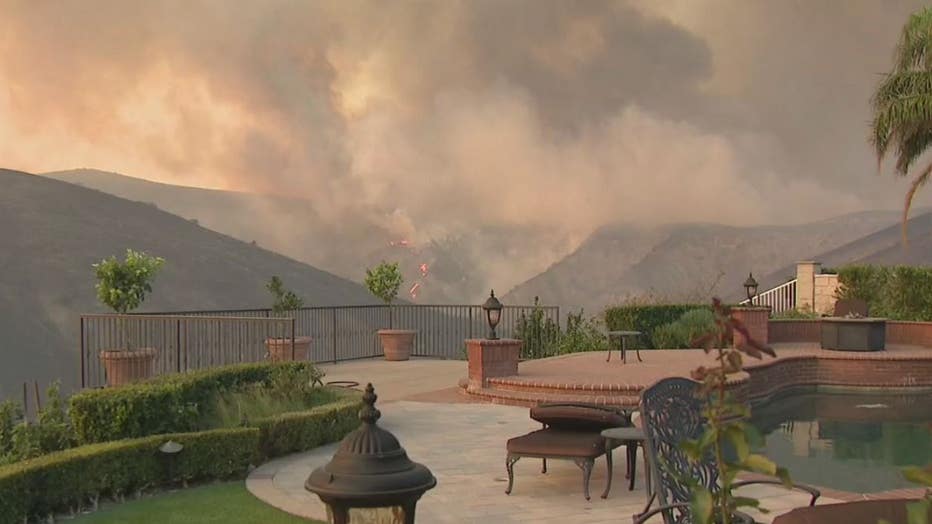 "We got the hose out and the fire actually wrapped around the canyons and hopped over and once it hit my dad's neighbor's house, we got the hose out and CalFire was up here and we split the hydrant, and he told us where to go and what to do and we had one house, he [the firefighter] had the other," said Callahan.
Callahan and others have cell phone footage of the flames within 25 feet of them. He said he also alerted neighbors about the fire.
"I started knocking on people's doors and it was amazing. I probably went to 45 homes and half of them didn't even know there was a fire in their backyard, people with kids so it was pretty intense," said Callahan.
Callahan got some unexpected help too. Joshua Sedoff came to the area, aiming to help one of his friends who evacuated.
Sedoff stumbled upon Callahan and his neighbors and decided to help.
"I saw them hook up the hose so I decided to ask them if they wanted help and he [Callahan] said yeah," said Sedoff.
Sedoff, 22, wants to become a firefighter once he finishes college.
"I want to be a firefighter so this is in a way exhilarating because this is what I want to do so it was nice to be around the firemen, trying to help them out as much as possible," said Sedoff.
Sedoff described what it was like to assist fire crews.
"You could feel the flames, the heat. It was intense and you're trying to keep your eyes open and your eyes are just watering because the smoke is just coming straight at you," said Sedoff.
The group was able to hold off the flames for a few hours.
"I wanted to help him out and I was lucky enough to be able to do that and he was not afraid and none of us were afraid. All we wanted to do was save all the houses," said Sedoff.
The neighbors in the community are not planning to evacuate like hundreds of other people have. However, they are planning for a long night of looking out for each other.
"We took care of it as a team. That's what we gotta do up here as neighbors and society. We've been up here for over 20 years. They're like family to us and we strive to help each other and help anyone else that we can," said Callahan.
Neighborhoods in Chino Hills were also evacuated Monday evening.
According to Chino Valley Fire, the Blue Ridge Fire was at 3,000 acres and 15,331 people were placed under mandatory evacuation orders as of 8:30 p.m. Monday.
Get your top stories delivered daily! Sign up for FOX 11's Fast 5 newsletter. And, get breaking news alerts in the FOX 11 News app. Download for iOS or Android.