Citing new evidence, Menendez brothers look to overturn murder convictions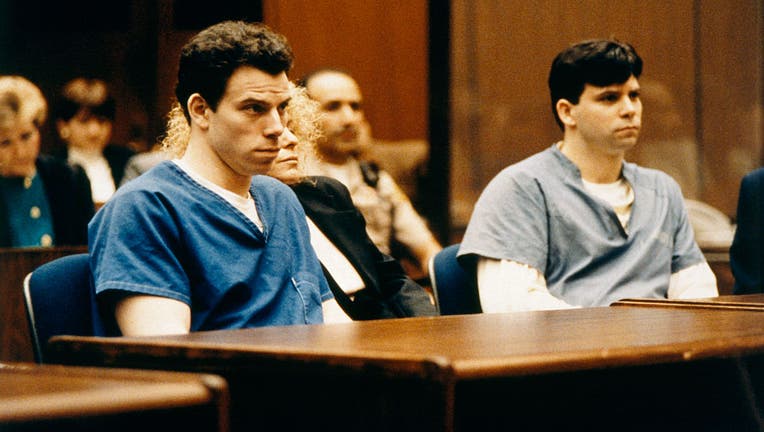 article
LOS ANGELES - Potentially reopening one of Southern California's most notorious murder cases, attorneys for Erik and Lyle Menendez filed court papers Wednesday contending that newly surfaced evidence warrants the overturning of the brothers' convictions for killing their parents in 1989.
Jose Menendez and his wife, Mary Louise, or "Kitty," were gunned down by their sons in their Beverly Hills mansion in 1989. Erik Menendez, now 52, and Lyle Menendez, now 55, never denied carrying out the killings, but contended they were repeatedly sexually assaulted by their father and feared for their lives.
As a result, defense attorneys argued that the brothers "did not harbor the mental state needed for first-degree murder and were therefore guilty of manslaughter."
Prosecutors, however, said the killings were financially motivated, pointing to lavish spending sprees by the brothers after the killings and arguing they were guilty of first-degree murder.
The brothers' first trial ended with jurors unable to reach verdicts, deadlocking between first-degree murder and lesser charges including manslaughter. The second trial, which began in October 1995 and lacked much of the testimony centered on allegations of sexual abuse by Jose Menendez, ended with both brothers being convicted of first-degree murder and conspiracy.
The brothers were both sentenced to life in prison without the possibility of parole. They have repeatedly appealed their convictions to no avail.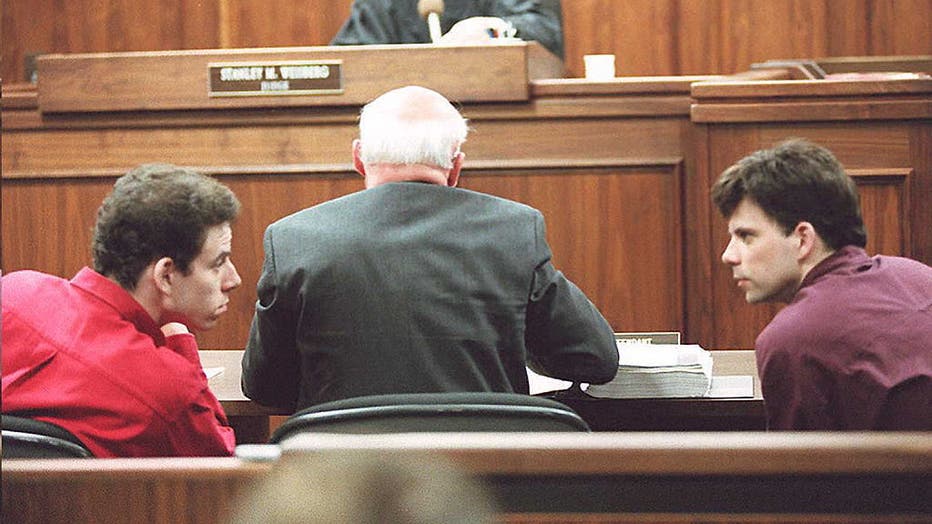 LOS ANGELES, UNITED STATES: This 02 February 1995 file picture shows Erik (L) and Lyle (R) Menendez conversing in the courtroom during a hearing in Los Angeles. The Menendez brothers were sentenced to life in prison without the possibility of parole
PREVIOUS COVERAGE:
But in court papers filed Wednesday -- and first obtained by Los Angeles Magazine -- attorneys for the brothers point to two new pieces of evidence they contend corroborate the brothers' allegations of long-term sexual abuse -- a letter written by Erik Menendez to one of his cousins in early 1989, eight months before the August 1989 killings, and recent allegations by a former member of the Puerto Rican boy band Menudo that he was also sexually abused by Jose Menendez as a teenager.
The court document includes a copy of the handwritten letter sent to Erik Menendez's cousin, Andy Cano. Attorneys contend the letter was recently discovered by Cano's mother. Cano, who died of a drug overdose in 2003, testified in the brothers' first trial that Erik Menendez had told him about the molestation by his father when Erik was 13 years old, according to the court documents.
In the letter, Erik Menendez writes in part, "I've been trying to avoid dad. It's still happening Andy, but it's worse for me now. I can't explain it. ... I never know when it's going to happen and it's driving me crazy. Every night I stay up thinking he might come in. I need to put it out of my mind."
In court papers, Menendez brothers attorneys Mark Geragos and Cliff Gardner write that the new evidence "not only shows that Jose Menendez was very much a violent and brutal man who would sexually abuse children, but it strongly suggests that -- in fact -- he was still abusing Erik Menendez as late as December 1988. Just as the defense had argued all along."
To bolster their contention, the attorneys also cited allegations that surfaced last month in a Peacock documentary series, in which Roy Rosselló - - a former member of the boy band Menudo -- alleged that Jose Menendez drugged and sexually assaulted him when he was about 14 years old during a visit to the Menendez home in New Jersey in 1983 or 1984.
Jose Menendez was an executive at RCA Records, which signed Menudo to a recording contract.
"I know what he did to me in his house," Rosselló, now 54, says in the series. In another segment, he points to a picture of Jose Menendez and says, "That's the man here that raped me. That's the pedophile."
A declaration from Rosselló -- who also alleges Menendez sexually assaulted him on two other occasions in New York -- was attached to the court papers filed Wednesday.
The Menendez brothers' attorneys argue that the new evidence warrants a reopening of the case, saying it establishes "a prima facie case for relief."
"To resolve this case, jurors had to decide a single, critical question: was Jose Menendez molesting his sons?" the attorneys write in the court document. "Jurors making this determination did not know of Erik's letter to his cousin Andy, and they did not know that Jose Menendez had previously raped a 14-year-old boy."
As a result, the attorneys argue that the brothers are being "unlawfully" imprisoned.
"Newly discovered evidence directly supports the defense presented at trial and just as directly undercuts the state's case against (the brothers)," the attorneys contend in the document.
Representatives for the District Attorney's Office could not be reached late Wednesday for comment, and the office did not immediate respond to a request for comment from Los Angeles Magazine.
The papers ask that following a response from prosecutors, a judge "vacate the judgment and sentence imposed upon petitions," or in the alternative schedule an evidentiary hearing.