Mayor Garcetti criticizes Prop 47, laments 'broken system' in reaction to FOX 11 meth addiction investigation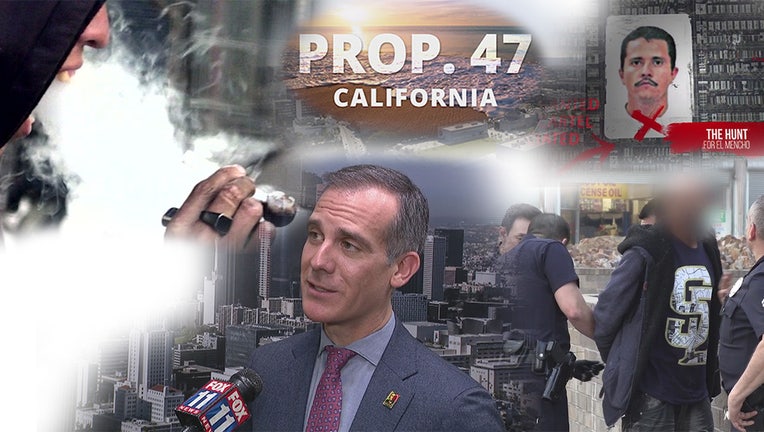 article
LOS ANGELES - Los Angeles Mayor Eric Garcetti is expressing strong criticism towards California's Prop 47, saying he shares LAPD's frustration with the law. He also said Los Angeles hasn't received any of the promised state money under Prop 47. This is all in response to an explosive FOX 11 homeless meth addiction investigation that has several million online views and has been picked up by local and national media outlets.
Our original investigation can be seen here: LA's homeless meth addiction epidemic fueled by CJNG drug cartel, enabled by Prop 47, DEA says
In that report, Special Agent in Charge Bill Bodner, the head of DEA Los Angeles, slammed Prop 47, accusing it of enabling LA's meth addiction epidemic in the homeless community.
"There's no reason to be afraid of shooting up in public. There's no motivation to go to treatment," Bodner said. "They used to be given a choice -- do you want to go to jail, do you want a felony conviction, or do you want treatment? There's no hammer now. Now they get a ticket, they tear it up, and throw it away. They're using drugs the same day, so it has not worked."
LAPD expressed frustration with the law.
"Since it has been relegated now down to a misdemeanor, there is more of a revolving door, we don't have the ability to have people go into treatment facilities like we had before, so it's had some effect on street level use," said Captain Scott Harrelson, commanding officer at LAPD's Central Division, which oversees Skid Row. "It can be frustrating, but it doesn't stop us from doing our job."
And in an interview with FOX 11 on Wednesday, Mayor Garcetti stood behind his police department.
"I agree with them," Garcetti said. "If somebody gets arrested, they're not going to serve any time in jail. If they do serve time in jail, they're not going to be prosecuted. If they do get prosecuted they're not going to be sentenced, and if they are sentenced they're out right away. It's a broken system. I've been unafraid to say that. I know sometimes because I'm a Democrat people think that's the wrong talking point. I was somebody who didn't endorse Prop 47, because I had worries it was the cart before the horse. I think we all can agree, somebody shouldn't be on our dime away for two decades. But if there's no consequence at all, and if people can't be diverted into treatment, you see the results on the streets of LA."
One of the main promises of Prop 47 was that money saved from reducing the state inmate population would be sent back to local governments to help with drug and mental health treatment, but Garcetti tells FOX 11 Los Angeles hasn't seen any of that money.
"I don't know where that money is," Garcetti said. "I've been calling for 3 years for Sacramento to deliver that money. We haven't seen these dollars. We need to have those dollars that were promised from Sacramento under Prop 47 come to local programs that catch people the moment we find them on the streets the moment they come out of jail. I do believe we need some consequences so people do have the threat of some jail time. So, I totally sympathize. I'm out there with my officers all the time, and we're asking them to do the work they can't single-handedly do."
Garcetti says there doesn't have to be a choice between decades in prison and total chaos on the streets. He believes a treatment option has to be included if the problem is ever going to be solved. 
"We don't want to spend $200,000 a year for somebody to be in a prison, but why aren't we spending $40,000-50,000 for them to get off the streets and get into treatment?" Garcetti said.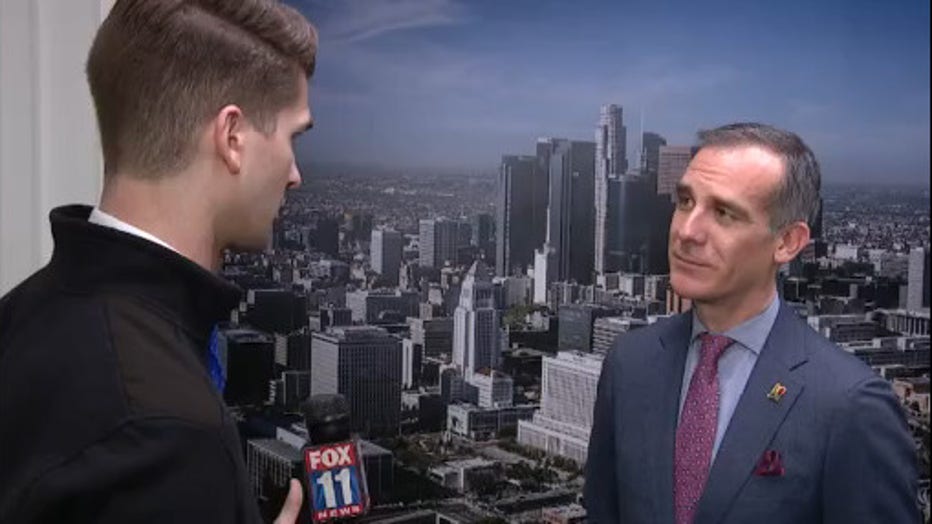 FOX 11 reporter Bill Melugin asked, "Your administration has put a lot of priority into housing people. This is an entirely different issue: severe drug addiction, people walking on the streets seeing people shooting up in public. For the people at home who are frustrated and feel like nothing is happening, how do you respond to that?"
Garcetti responded by saying, "We all know the quickest way you can treat someone's addiction is by having them indoors. You can't begin to have that conversation until you have a bed and an apartment." 
"How do you force somebody indoors if they don't want to be indoors?" Melugin asked.
"Well, there's the United States Constitution," Garcetti responded. "Even under a conservative Supreme Court, the law is the law. Unless there's a bed waiting for them, you can't."
Garcetti pointed out that despite the homeless crisis, major crime in Los Angeles has dropped to its lowest levels in decades, with the second-lowest homicide rate in the city's history.
"It's really important to remind folks this is the safest year we had in decades," Garcetti said. 
"Type 2 crime did go up though," Melugin responded.
"There's no question, street crime, which is a concern of mine, we're seeing indicators that whether it's petty crime or drug use, has gone up. Unfortunately, most of these have been decriminalized. I think we need to take a hard look at that again."