Man shot at outside of Northridge home offering $100K reward for info
LOS ANGELES - Police in Northridge are searching for a gunman who shot at a man in front of his home Friday, and the victim is offering a $100,000 reward for information that will lead to arrests.
The attempted shooting happened around 6:30 p.m. Friday, according to the Los Angeles Police Department. Police received a call about an assault with a deadly weapon at a home in the 9600 block of Texhoma Avenue in Northridge.
The suspect was gone before police got there.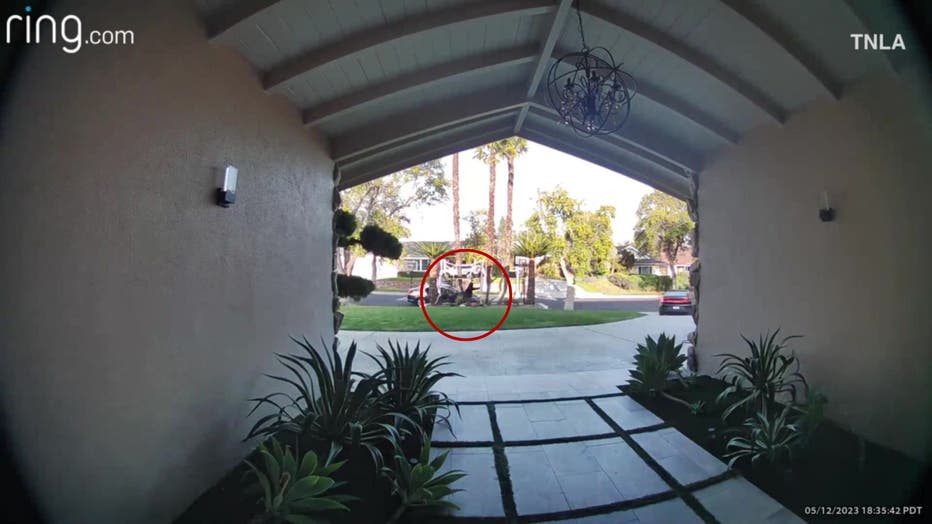 SUGGESTED: Victorville mom killed, kids hospitalized in crash with alleged DUI driver
The attempted shooting was caught on doorbell video. In the video, a car is seen pulling up in front of the home before quickly speeding off. On the street, a man is seen walking out of a car, and toward the car with his hand raised, before firing shots at the car. The gunman was then seen getting back in the car on the street as it pulled away.
The victim told reporters that he noticed the suspects' car when he first pulled into his neighborhood, parked in front of a neighbors house, and that the car sped toward his house as he pulled into the driveway. He said he drove off with the suspects following him before eventually getting away. He said he feels that this attempted shooting was targeted. 
The LAPD described the shooter as a man about 180 pounds, wearing a black mask, black pants and shirt. The suspects' car was described as a Kia Optima.
Anyone with any information about the shooting was urged to call Crime Stoppers at 800-222-8477 or go directly to lacrimestoppers.org.