Nearly 200 people, including 2 LA councilmembers, arrested during hotel workers protest for higher wages
LOS ANGELES - Can't afford to live in LA? You're not alone. 
Hundreds of union workers showed up in full force in downtown Los Angeles Thursday for a rally demanding an end to low wages. Another demonstration blocked traffic near the Los Angeles International Airport for several hours and led to the 190 arrests, including two Los Angeles City Councilmembers, Los Angeles Police Department officials said. 
Members of SEIU Local 1000 met in downtown LA Thursday morning, saying their wages are too low to make ends meet. The union, which represents state employees, demands California ensure every state employee makes a living wage and end pay disparities that impact women, Black, and brown employees. 
"It would be nice not to have to work 64 hours a week, but I have to work that much," said Suize Redfearn a supervisory cook at a state prison.  
Like many at the rally, after taxes, she does not clear the $76,000 a year a recent study found necessary for a single person to live comfortably in California cities like LA.
According to a 2023 study by the UC Berkeley Labor Center, the state pays more than 68% of state employees represented by SEIU Local 1000 wages so low that they can't afford to support a family of two in California.
"I can't afford a one-bedroom apartment, it'll take my entire paycheck," said Maria Blaine.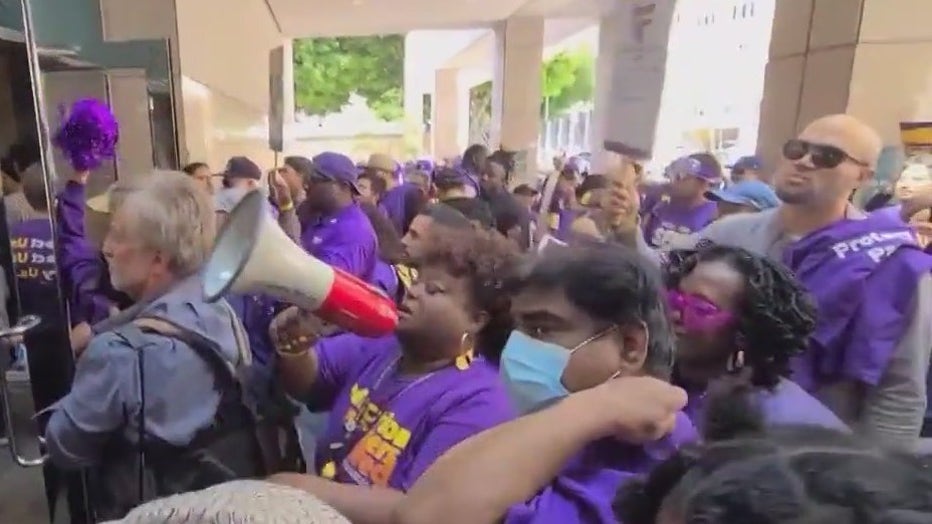 A separate demonstration near LAX took place Thursday evening. The UNITE HERE Local 11, which represents hotel workers gathered in Westchester, sitting in traffic to demand better working conditions. During those protests, Los Angeles City Councilmembers Hugo Soto-Martínez and Nithya Raman were arrested. California Assemblywoman Wendy Carrillo was also arrested.
According to the Los Angeles Police Department, a dispersal order was issued but some protesters chose not to disperse. Approximately 200 protesters were arrested and given citations and subsequently released. 
Soto-Martinez released the following statement Friday:
"People are being priced out of their homes and have to commute for hours to work. A single mother who works as a housekeeper has to work 17 hours a day to afford housing in this city. I'm proud to stand in solidarity with UNITE HERE Local 11 and tourism workers across the city because people who work in LA should be able to afford to live in LA."
"Tourism workers, like all workers, deserve the dignity and respect of being able to afford to live in the city where they work," said Councilmember Nithya Raman.
Raman's statement continued to say, "As the wife of a union member currently on strike, I am proud to stand alongside them in their fight for liveable wages, affordable housing, and a fair union contract, and if engaging in civil disobedience and getting arrested is what it takes, we will continue to disrupt and advocate for justice." 
According to a survey from the union, 53% of workers said that they either have moved in the past 5 years or will move in the near future due to soaring housing costs. Some hotel workers report commuting hours from areas like Apple Valley, Palmdale, Victorville, and even California City in Kern County. 
The union is looking to create a hospitality workforce housing fund, in addition to better wages, healthcare benefits, pension and safer workloads. 
Their contracts expire June 30, and the union could call for a strike as early as July 4th weekend. If so, it would be the largest hotel worker strike in modern US industry.