What you need to know about the 3-day strike by LAUSD staff unions
LOS ANGELES - Schools within the Los Angeles Unified School District, the second-largest education system in the United States, are shutting down completely Tuesday after a union representing workers announced a three-day strike to protest the district's "unfair practices."
LAUSD Superintendent Alberto Carvalho said negotiations continue with members of SEIU Local 99 but as of this morning a deal has yet to be reached. 
PREVIOUS COVERAGE: LAUSD braces for closures, after labor board refuses to stop strike
The planned three-day walkout would be the first major labor disruption for the district since UTLA teachers went on strike for six days in 2019. That dispute ended thanks in part to intervention by then-Mayor Eric Garcetti, who helped spur labor talks at City Hall and broker a deal between the district and union.
Here's what you need to know ahead of the looming strike.
When is the strike?
The strike will be held Tuesday, March 21 through Thursday, March 23.  Below are the events planned: 
Tuesday:
4:30 a.m. picket lines at Van Nuys Bus Yard, 16200 Roscoe Blvd.
7 a.m. news conference at Robert F. Kennedy Community Schools, 701 S. Catalina St., Los Angeles;
1 p.m. rally at LAUSD Headquarters, 333 South Beaudry Ave., Los Angeles.
Wednesday:
4:30 a.m. picket lines at Gardena Bus Yard, 18421 S. Hoover St.;
7 a.m. news conference and picketing at Polytechnic High School, 12431 Roscoe Blvd., Sun Valley;
11 a.m. rally at LAUSD Local District Office, 2151 N. Soto St., Los Angeles.
Thursday:
4:30 a.m. picket lines at BD Bus Yard 774 E. 17th St., Los Angeles;
7 a.m. news conference and picket lines at Banneker Career Transition Center, 14024 San Pedro St., Los Angeles;
1 p.m. rally at location to be determined.
Who is striking?
According to their website, SEIU Local 99 is a union of 50,000 education workers in K-12 schools, early education centers and homes, and community colleges throughout Southern California, including 30,000 cafeteria workers, special education assistants, custodians, bus drivers and others providing essential student services at LAUSD schools.
Thousands of members are expected to participate.
RELATED COVERAGE: LAUSD Superintendent Alberto M. Carvalho discusses planned strike
Why are they striking?
Workers are demanding an equitable wage increase and more full-time work, among other things. 
According to SEIU, the school district has engaged in "unfair practices" and there has been little progress since negotiations began in April 2022. In December, SEIU Local 99 announced talks had reached an impasse and a state mediator was appointed to oversee communications between the two parties. 
PREVIOUS COVERAGE: 3-day LAUSD strike to begin March 21
Members said they continue to live off "poverty wages" during a time when expenses continue to increase due to inflation and other factors. The average salary of workers at LAUSD is around $25,000 a year, according to SEIU.
In addition to salary demands, union officials have also alleged staffing shortages caused by an "over-reliance on a low-wage, part-time workforce." The union alleged shortages including:
Insufficient teacher assistants, special education assistants and other instructional support to address learning loss and achievement gaps,
Substandard cleaning and disinfecting at school campuses because of a lack of custodial staff,
Jeopardized campus safety due to campus aides and playground supervisors being overburdened, and,
Limited enrichment, after-school and parental engagement programs due to reduced work hours and lack of health care benefits for after-school workers and community representatives.
What are they asking for?
Some of the demands include: 
At least a 30% increase in wages plus $2 per hour equity wage adjustment effective July 1
Increased hours and health care benefits for part-time workers
Improved sanitation and maintenance on campuses
To address staff shortages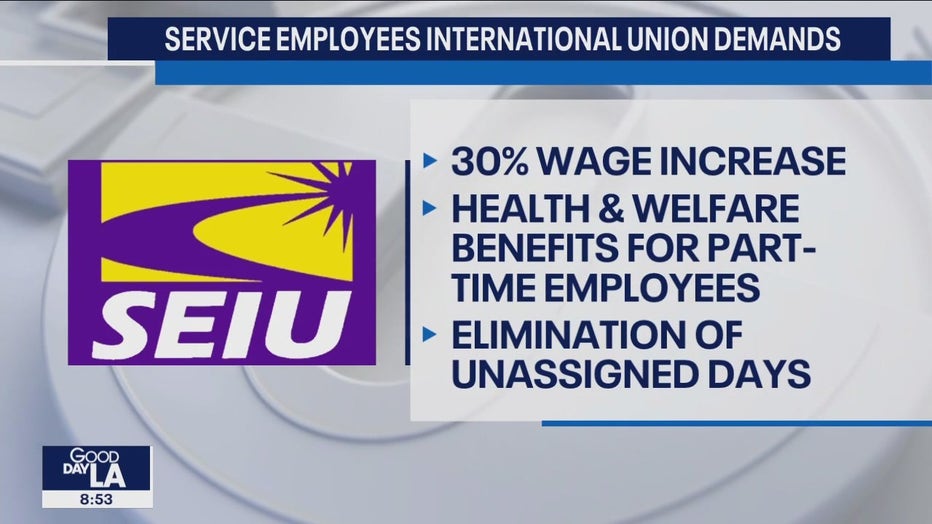 What has been offered?
District officials said last week that Carvalho had made the SEIU Local 99 "one of the strongest offers ever proposed by a Los Angeles Unified superintendent."
According to the district, the offer included a 5% wage increase retroactive to July 2021, another 5% increase retroactive to July 2022 and another 5% increase effective July 2023, along with a 4% bonus in 2022-23 and a 5% bonus in 2023-24.
"I had direct conversations with leaders in the of the union yesterday and today were willing and ready to go back to the table to continue those important conversations," Carvalho said. 
PREVIOUS COVERAGE: LAUSD parents prepare for looming 3-day strike
"Right now we have an offer on the table that beats inflation that actually exceeds 20% recurring salary increase over time, in addition to a 3% bonus and a massive expansion of health care benefits for part-time employees. So I am still hopeful," he added.
Will schools be closed?
Yes. All schools within the LAUSD will be closed Tuesday through Thursday during the strike. 
What should I do as a parent?
The LAUSD is advising parents to plan and be prepared by having childcare arrangements in order and talk to their employers. 
Are there resources available?
Several webinars are scheduled Monday by LAUSD officials to inform parents of the latest updates and what they need to know. 
They are scheduled for the following times: 
Noon-1:30 p.m.
5:30 p.m. to 7:30 p.m.
LAUSD said it will also be offering six grab-and-go meals that can be picked up Tuesday to help cover breakfast and lunch over the next three days. Meals will be distributed Tuesday beginning at 7:30 a.m. until 10:30 a.m. 
RELATED COVERAGE: LA County Parks extends recreation program for LAUSD students impacted by possible strike
Additionally, 16 LA County parks will be extending their "Every Body Plays Program" and operating hours at two nature centers Tuesday through Thursday from 8 a.m. to 5:30 p.m. They will serve students during the possible LAUSD strike and provide free meals.
The 16 sites below will operate from 8 a.m. to 5:30 p.m. on Tuesday, March 21 through Thursday, March 23, when the strike is scheduled to take place:
Belvedere Park (4914 E. Cesar Chavez Ave. Los Angeles, CA 9002)
City Terrace Park (1126 N. Hazard Ave, E. Los Angeles, CA 90063)
Obregon Park (4021 E. First St. Los Angeles, CA 90063)
Saybrook Park (6250 East Northside Dr. East Los Angeles, CA 90022)
Ruben Salazar Park (3864 Whittier Blvd. Los Angeles, CA 90023)
Athens Park (12603 S. Broadway Los Angeles, CA 90061)
Bethune Park (1244 E. 61st St. Los Angeles, CA 9000)
Helen Keller Park (1045 W. 126th St Los Angeles, CA 90044)
Jesse Owens Park (9651 S. Western Ave Los Angeles, CA 90047)
Earvin Magic Johnson Park (905 E. El Segundo Blvd. Los Angeles, CA 90059)
Roosevelt Park (7600 Graham Ave. Los Angeles CA 90001)
Ted Watkins Park (1335 E. 103rd St. Los Angeles, CA 90002)
Leon H Washington Park (8908 S. Maie Ave. Los Angeles, CA 90002)
Victoria Park (419 Martin Luther King Jr. St. Carson, CA 90746)
El Cariso Park (13100 Hubbard St. Sylmar, CA 91342)
Crescenta Valley Park (3901 Dunsmore Ave. Glendale, CA 91214)
The Dana Friendship Park and Nature Center in San Pedro and the Stoneview Nature Center in Culver City are also offering extended hours for the above dates and times, in addition to free breakfast and lunches while supplies last. 
The Los Angeles Zoo will also be offering free admission for LAUSD students grades K-12, along with a $5 fee for accompanying chaperones. Students must show proof of enrollment by showing a school ID card, report card, school newsletter, or similar proof of enrollment. Complimentary admission will be offered only on Tuesday through Thursday and tickets must be purchased in person at the LA Zoo box office. To learn more, tap or click here.
The Natural History Museum of Los Angeles County in Exposition Park and La Brea Tar Pits in Hancock Park will offer free general admission to LAUSD students and chaperones. Free general admission tickets will be available only on site at the museum's ticket counters. 
The LAUSD also has a family hotline that has information and resources to help families prepare for at-home learning and school updates.
FOX 11 has made several attempts to contact SEIU Local 99 but has not yet heard back. 
FOX News and City News Service contributed to this report.