LAPD removes 'Thin Blue Line flag' from station after receiving complaint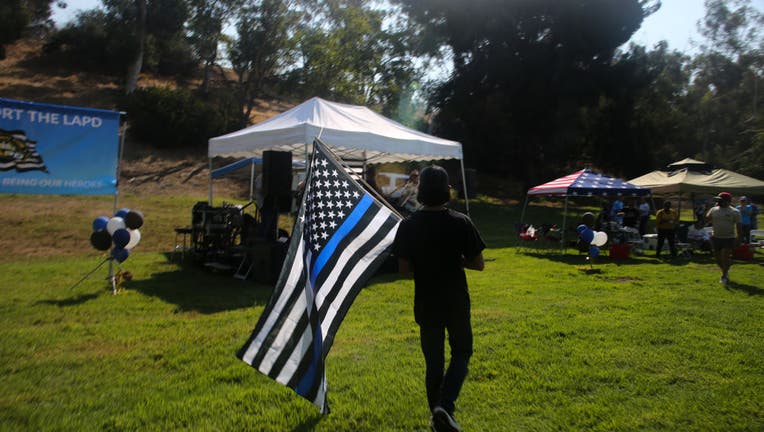 article
LOS ANGELES - The Los Angeles Police Department removed the "Thin Blue Line Flag" from one of its stations after receiving a complaint from a community member saying the flag represents extremist views.
The flag was hung over the front desk of the Rampart Station. 
While Chief Michel Moore said he doesn't view the flag in the same manner the community member did, he said the flag's "display in our public lobbies can be divisive."
"It's unfortunate that extremist groups have hijacked the use of the "Thin Blue Line Flag" to symbolize their undemocratic, racist, and bigoted views. Flags serve as powerful symbols with specific meanings. The "Thin Blue Line Flag" to me presents the honor, valor, dedication, and sacrifice of law enforcement to protect our communities. Tragically, that view is not universally held and others have been able to persuade the public it symbolizes racist, bigoted and oppressive values," Moore said in a statement. 
The US flag will be displayed in station lobbies. 
He said employees and staff are still allowed to have the "Thin Blue Line Flag" in their workspace, locker door, and personal vehicles. Memorials for fallen officers will also be authorized in all public spaces, he added. 
"Given our lobbies should be places that people feel safe, free of political ideology, and welcoming, it remains our long-standing policy that only official items be displayed," his statement read. 
Moore said the Los Angeles Police Protective League (LAPPL) expressed disappointment in his decision to remove the flag.