LA Metro to consider 'congestion pricing'
LOS ANGELES - The Los Angeles County Metropolitan Authority is exploring the idea of charging drivers on certain freeways during peak hours to reduce traffic.
Metro's Traffic Reduction Study is exploring the unique approach that's proved successful in other metropolitan cities such as London, Stockholm, and Singapore.
The study began in 2020 with listening sessions with elected officials, local government agencies, community representatives and people who travel in LA County. In 2021, Metro introduced early concept areas to the public and began its initial evaluation.  
Throughout the year, Metro plans to engage stakeholders and communities in conversations to inform the feasibility study and what a potential pilot program could look like in LA County.
The program would be aimed at successfully reducing traffic, reducing air and climate pollution, while also increasing the use of public transportation.  Critics argue that it unfairly impacts lower-income residents and creates more congestion on surface streets.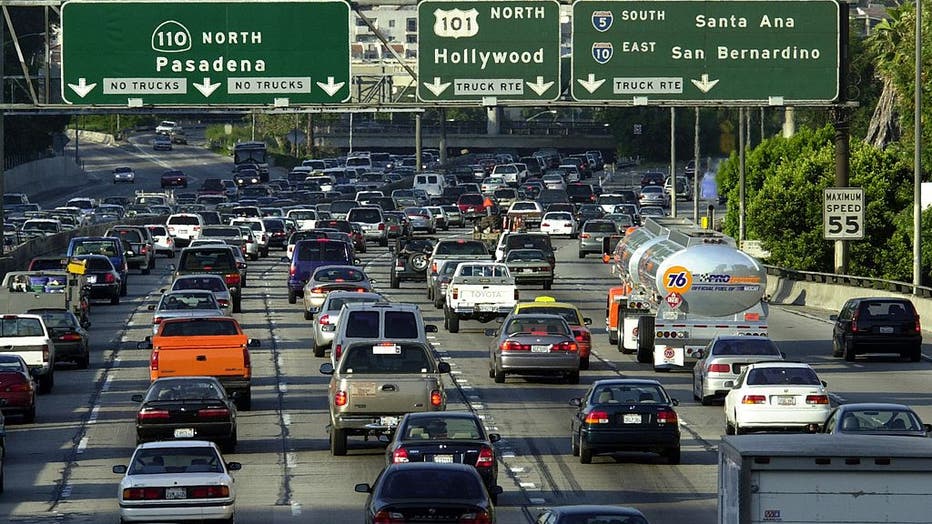 ((Photo by David McNew/Newsmakers))
Officials are expected to submit the feasibility study and next steps to the Metro Board for consideration in late 2023. It will include a recommendation to move one concept forward for an environmental study, exploring state legislation, and ongoing public engagement. 
Details on pricing, technology and projected revenue are minimal at this time.
Three areas appear to be possible pilot locations including a 16-mile stretch of the 10 Freeway between downtown LA and Santa Monica.
If approved by the Metro board a pilot program on "congestion pricing" would ultimately be launched in 2028, prior to the Olympics.