LA Lakers lose pivotal Game 5 of NBA Finals against Miami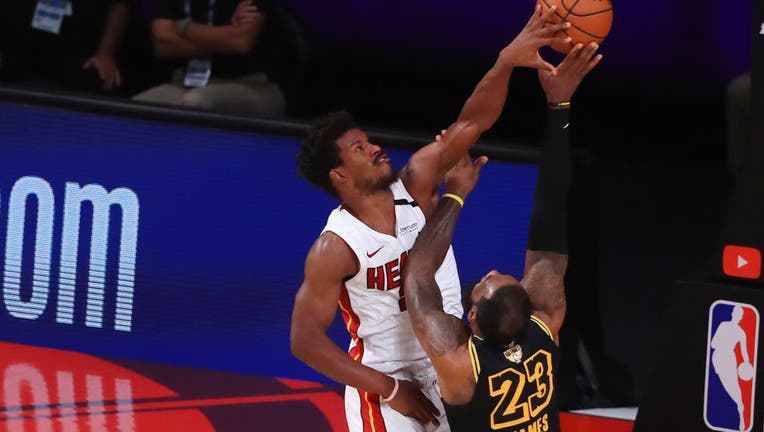 article
LAKE BUENA VISTA, Fla. - The Los Angeles Lakers were defeated by the Miami Heat 108-111 in Game 5 of the NBA Finals after Jimmy Butler put on an explosive performance. This marks the franchise's first loss wearing their "Black Mamba" jerseys that honor NBA legend Kobe Bryant and his daughter, Gianna. 
The Lakers were expected to close it out and win the 17th championship title in franchise history. 
Danny Green missed what would've been a pivotal game-winning shot with seconds left on the clock. 
Despite scoring 40 points, LeBron James also missed a 3-point shot necessary to tie the game and in order for it to go into overtime. 
The teams went toe-to-toe in the fourth quarter as Butler showed grit and did not give up despite trailing during certain points of the game. Butler ended the game with 35 points. 
Butler had 35 points, 12 rebounds and 11 assists, and the Heat held off Los Angeles 111-108 to cut the Lakers' lead in the title series to 3-2.
"That's Jimmy Butler," Heat center Bam Adebayo said. "That's our max player and that's who we go to in these moments."
With good reason. He didn't let them down, not even on a night where LeBron James — seeking a fourth title and the player with the best closeout-game record in NBA history — was masterful.
James had 40 points, 13 rebounds and seven assists for the Lakers. But on the possession that decided everything Friday night, the Heat forced the ball out of James' hands by basically sending three defenders at him as he drove down the right side of the lane, the Heat up by one, the Lakers only needing one basket for a title.
He found Green alone atop the key; Green's shot was well short and the Heat closed it out with a pair of free throws.
"It was a little bit of luck that Danny Green missed that shot at the top of the key," Butler said.
Game 6 is Sunday night.