La Crescenta schools locked down after reports of suspicious person on campus, suspect arrested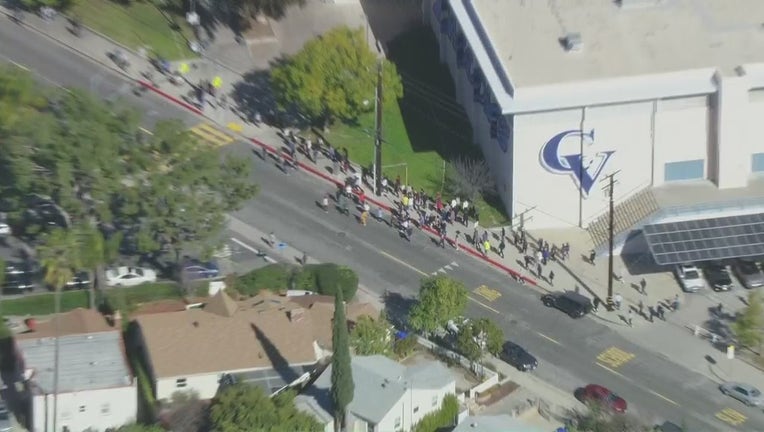 article
LOS ANGELES COUNTY, Calif. - One man is in custody Wednesday night after Crescenta Valley High School and neighboring La Crescenta Elementary were placed on lockdown, according to officials.
Los Angeles County Sheriff's deputies responded to the high school at the corner of Community and Ramsdell avenues around noon after someone reported seeing a suspicious person on campus. CVHS and La Crescenta Elementary, which is next door, were ordered to shelter in place while deputies investigated. According to LASD, an unauthorized person carrying a large duffel bag failed to check in with the office when asked to do so.
By around 2 p.m. deputies had searched the campus and found no danger. As a precaution however, the high school was evacuated, and students and staff ware brought to Christ Armenian Church on La Crescenta Avenue, where they were able to walk home or be picked up by their families. Students at La Crescenta Elementary were still sheltering in place, while transitional kindergarten and kindergarten students were let out on their normal schedule. 
SUGGESTED: California Tesla driver charged for road rage attacks caught on camera
Images from SkyFOX over the scene showed students walking on the sidewalks outside the schools toward the church.
The LASD said it conducted another search of the campus for any potential suspicious packages and determined that there was no threat. All of the school's students were still released. 
Minutes later, a deputy found a person matching the trespassing suspect's description at a business in Glendale. Deputies detained the man until a staff member from the school came and positively identified the man as the person he saw at the school.
That man, identified as Brandon Santora, 41, was arrested. Following his arrest, detectives actively were investigating the case and found new information on a matter unrelated to the school, which gave detectives cause to arrest him for felony criminal threats.