LA County Fire identifies firefighter killed in Rancho Palos Verdes fire
RANCHO PALOS VERDES, Calif. - The Los Angeles County Fire Department has identified the firefighter who died in the line of duty Thursday.
Jonathan Flagler died from his injuries battling a fire at a building in Rancho Palos Verdes early Thursday morning. Flagler had been a firefighter for 21 years, beginning his career with the Vernon Fire Department, before moving to LA County Fire in October 2020. Flagler leaves behind a wife and two teenage sons.
"I join with the Flagler and LACoFD families in mourning the sudden passing of firefighter Flagler," Interim Fire Chief Anthony Marrone said in a statement. "It is always a tragedy to lose one of our own in the line of duty. Fire Fighter Flagler made the ultimate sacrifice; his bravery and courage will never be forgotten."
A call came in shortly after 2 a.m. Thursday for a fire in a building on the 30700 block of Tarapaca Road. According to LA County Fire, Flagler was critically injured on the scene and transported to the Harbor-UCLA Medical Center in critical condition. He did not survive his injuries.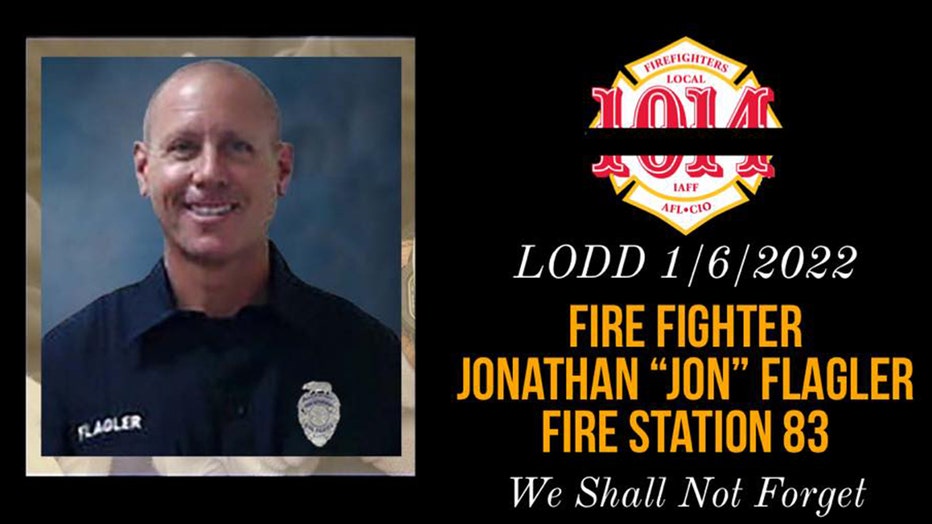 Credit: Los Angeles County Firefighters, IAFF Local 1014
Get your top stories delivered daily! Sign up for FOX 11's Fast 5 newsletter. And, get breaking news alerts in the FOX 11 News app. Download for iOS or Android.
According to Marrone, preliminary investigation suggests that the fire was contained to the attic of the building, where Flagler was "overcome by smoke." His fellow firefighters were able to remove him from the building and attempted to treat him before he was transferred to the hospital.
According to LA County Supervisor Janice Hahn, LA County Fire was able to rescue the family inside the burning building.
"This is devastating," Hahn said on Twitter. "My prayers are with his wife and two young sons as well as his friends and colleagues in the Fire Department and everyone that knew and loved him. His bravery and sacrifice will not be forgotten."
Los Angeles Fire Chief Ralph Terrazas said that Thursday's loss "affects us all. When a firefighter leaves home, and they hug their wife and their kids, it's with the knowledge that they may not come home or they may be seriously injured," he said. "And throughout your career, you get dispatched to emergencies and occasionally you recognize that this incident is very dangerous and you say a silent prayer to yourself and you continue doing what you do, what you took an oath to do to protect the people of this city. And today's fatality, today's loss is a reminder that life is fragile and firefighter's lives are fragile."
The Los Angeles County Sheriff's Department is currently investigating the cause of the fire.
Tune in to FOX 11 Los Angeles for the latest Southern California news.