LA, Orange County K9 crews head to Maui to help with recovery efforts
LOS ANGELES - Five canine teams from Southern California have made their way to Maui, leaving from Los Angeles International Airport Sunday morning to help in the wake of the deadly wildfires on the Hawaiian island. At least 93 people have died in the fire, making it the deadliest U.S. wildfire in more than a century. 
Three of those crews are from the Los Angeles County Fire Department. USAR canine teams Captain Celina Serrano and K9 Prentiss, firefighter paramedic Edward Ruiz and K9 Harper, along with firefighter paramedic Nicholas Bartel and K9 Six, were photographed at LAX catching their flight to Maui Sunday morning. 
"We're expecting about a two-week deployment," said Bartel. "We're going to go find the victims from the fire." If the Maui wildfires have been terrifying, the search for victims has been painstaking work, searching through burned out cars, homes and buildings.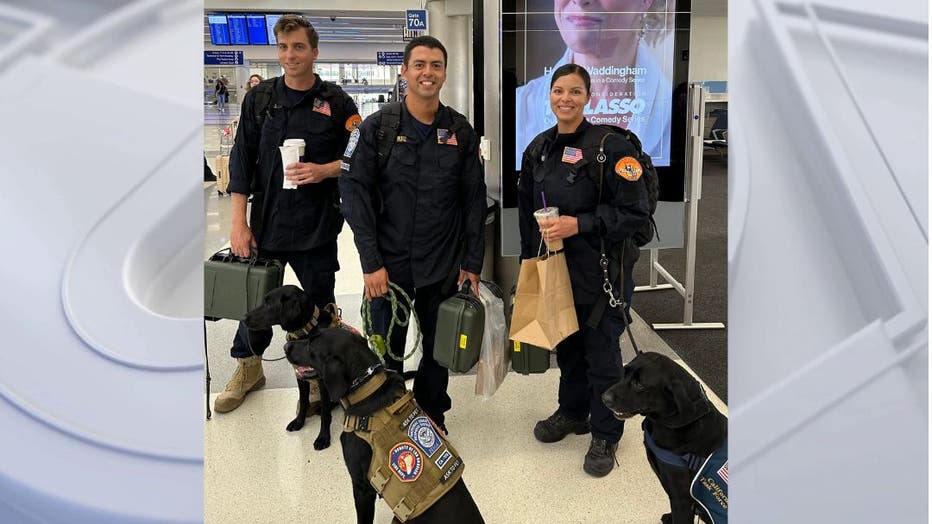 Three canine teams with the LA County Fire Department leave LAX for Maui Sunday to help with recovery efforts in Maui. / Photo courtesy LA County Fire Department
"These dogs are trained on human cremation as well and on victims that were burnt in houses, like we're going out to see," said Ruiz. "So, they're ready to do their job."
Crews with cadaver dogs have covered just 3% of the search area, Maui Police Chief John Pelletier said Saturday.
RELATED: Maui fire death toll climbs to 93, now the deadliest wildfire in modern US history
Hawaii officials urged tourists to avoid traveling to Maui as many hotels prepared to house evacuees and first responders on the island. About 46,000 residents and visitors have flown out of Kahului Airport in West Maui since the devastation in Lahaina became clear Wednesday, according to the Hawaii Tourism Authority.
LA County rescue crews are used to far-away deployments. Earlier this year, LA County sent crews out to Turkey, where a magnitude 7.8 earthquake killed over 50,000 people and destroyed over 100,000 buildings in February.
"We've been doing this as part of our job so we deal with unfortunate deaths in different circumstances and rescuing people as best as we can and so to see the other side of it," said Serrano. "It's just like 'Let's get to work.' We want to get to work, we want to see how many people we can help out there and bring closure to family members and hoping nobody gets injured. We just try to do the best we can. You know we're not the only ones out there. There are various teams out putting in the work as well."
Four hours before the LA County crews flew out, two Orange County teams headed out from LAX to join the search and rescue efforts. After he landed in Maui, Captain Eric Darling told FOX 11 via Facetime that he's "going straight to the command post. I'm just ready to go up there and go to work and make sure if there's somebody out there that needs to be brought home that we bring them to their family."
At least 2,200 buildings were damaged or destroyed in West Maui, nearly all of them residential. Across the island, damage was estimated at close to $6 billion.
At least two other fires have been burning on Maui: in south Maui's Kihei area and in the mountainous, inland communities known as Upcountry. No fatalities have been reported from those blazes.
As many as 4,500 people are in need of shelter, county officials said on Facebook, citing figures from the Federal Emergency Management Agency and the Pacific Disaster Center.
The latest death toll surpassed that of the 2018 Camp Fire in northern California, which left 85 dead and destroyed the town of Paradise. A century earlier, the 1918 Cloquet Fire broke out in drought-stricken northern Minnesota and raced through rural communities, destroying thousands of homes and killing hundreds.
The cause of the wildfires is under investigation. The fires are Hawaii's deadliest natural disaster in decades, surpassing a 1960 tsunami that killed 61 people. An even deadlier tsunami in 1946, which killed more than 150 on the Big Island, prompted development of a territory-wide emergency alert system with sirens that are tested monthly.
Darling, who is retired currently, is employed by Ventura County Fire doing search and rescue, and attached to the Orange County Task Force. He and his dog Mazie have tackled many tough situations together. The two of them worked on the 2020 Complex Fire, in which four wildfires came together, burning and area larger than the state of Rhode Island. Sixteen people died in that fire. More than 100 were injured. While the job is tough, Darling said for those who work on the fire's, it's a mission.
"When I get home, we'll decompress and focus, but right now it's game on," Darling said. "One hundred percent mission."
Photos in the video at the top of this story are courtesy of the Orange County Fire Authority and the Ventura County Fire Department.
The Associated Press contributed to this report.