L.A.'s ShakeAlert app lower standards for quakes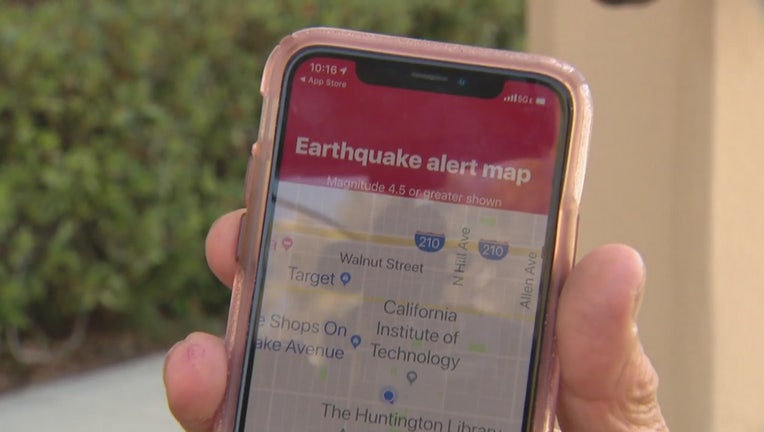 article
LOS ANGELES - Mayor Eric Garcetti held a news conference Wednesday to announce changes to the ShakeAlert LA app. The biggest change is that users will now be alerted when weaker quakes strike in some cases up to 45-seconds or more beforehand.
The ShakeAlertLA app drew criticism for not notifying users during the July 4 and 5 earthquakes will begin sending alerts for smaller quakes.
The previous threshold was magnitude 5.0.
On July 4th, a 7.1 earthquake struck Ridgecrest. It was the largest quake to hit Southern California in more than two decades.And while the quake was major, it did not cause any major damage in Los Angeles.
"Each generation needs to be ready for the worst days that we may face," said Garcetti.
Last December, the city of Los Angeles working in partnership with the US Geological Survey and Caltech released the ShakeAlertLA app. It was supposed to alert people several seconds before a quake hits.
RELATED: L.A. County earthquake early warning mobile app available for download
"We wanted to balance the need to let people know and also that we didn't cause too much chaos. That people weren't running out of crowded theaters or running off the side of the road because they knew and earthquake was coming," said Garcetti.
But the app was criticized for not working properly when residents in LA County complained that they were not notified of the initial 7.1 Ridgecrest quake.
"For the 7.1 we underestimated the magnitude so the alert area was probably not as large as it probably should have been," said Doug Given, an early warning coordinator with USGS.
Seismologists along with city officials announced that the app threshold will be lowered.
"We've changed the threshold from a magnitude 5 to 4 1/2 and the area that will be alerted is now the intensity three area," said Given.
Officials said the new targets shouldprovide more alerts and give Angelenos more peace of mind if and when the big one strikes.
"We've been through a 20 year earthquake drought that ended with the Ridgecrest sequence.
What that really means is that most of us are rusty at dealing with earthquakes," said Geologist Thomas Heaton with USGS.
The changes mean than users will be getting five times as many alerts as they did before.
Mayor Garcetti says his team will be monitoring it to see how residents are responding.
More information can be found at www.shakealert.org.
CNS contributed to this story.