KTTV 70: A historic look back at The Forum in Inglewood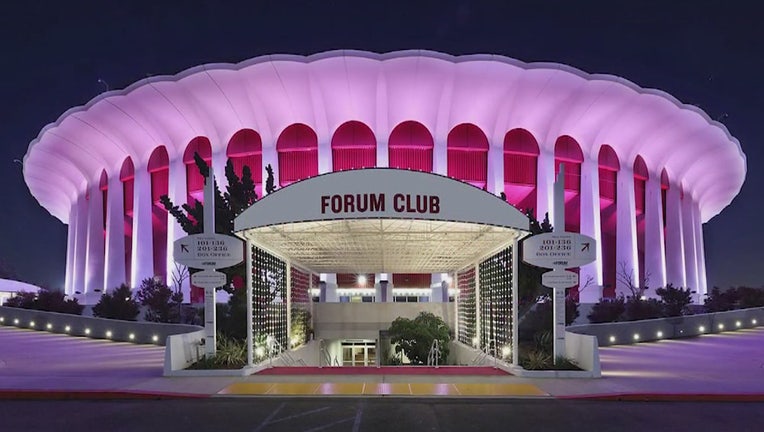 article
INGLEWOOD, Calif. - Los Angeles is a city where the stars cast imposing shadows. Just like it's famous people, for decades one iconic venue in Inglewood shined brighter than any other. In this KTTV 70th special, FOX 11 anchor Dan Cohen takes us on an historic trip to the truly fabulous, The Forum.
Just like its namesake in ancient Rome The Forum in Inglewood has served over five decades as one of the grandest venues in the world for music, sports, and groundbreaking events.  
It has attracted legendary performers like "The Boss" Bruce Springsteen, Led Zeppelin's Robert Plant and Jimmy Page, Billy Joel and Elton John.
This iconic landmark in the heart of Los Angeles has always had a finger on the pulse of history. 
But where did it come from? In 80 A.D….The original colosseum.  1886 years later developer Jack Kent Cooke broke ground on the old Inglewood Country Club. 
A year later in 1967, the fabulous Forum was born. Who could forget 'Showtime' built by iconic owner Jerry Buss. For $67 million dollars he bought The Forum, LA Lakers and Kings in 1979 and redefined ownership. 
His bold vision? To make Lakers basketball an all out entertainment spectacle. 
And boy did he with Hollywood A-listers that loved sitting courtside and fans who celebrated five Laker championships in the 80's.  
Inside The Forum: The Forum Club which was  'the' place to be seen. 
While you can't see his face among the famous artists the spirit of the legendary Lakers owner lives on. 
The Forum delivered some of the most thrilling highs, and in November 1991…a stunning low. 
It was inside The Forum Club the world first heard the news that Magic Johnson acquired the aids virus and would have to retire.
Without the likes of Magic and Wayne Gretzky, and top artists being lured away over the years to the Staples Center, The Forum would lose its luster. 
But in 2012 the Madison Square Garden Company purchased it from a church.  MSG teamed up with the city of Inglewood for a $70 million dollar renovation.In 2014, The Forum returned to glory with a six show concert run by the legendary Eagles.  Talk about going big – the entire roof was covered with a 407 foot vinyl "Hotel California" record.
The Forum has come a long way since the queen of soul, Aretha Franklin, who was the first singer ever to perform in 1968. 
This KTTV 70 lookback at The Forum in Inglewood is fabulous now…just as it was back then.
The Forum isn't only an iconic structure, it's a pillar for the Inglewood communit as MSG is required to staff at least 35-percent of the jobs with local residents. 
The Forum, along with the new Rams/Chargers football stadium across the street, is providing a much needed economic boost to the Inglewood community.