Jennifer Cohen announced as USC's first female athletic director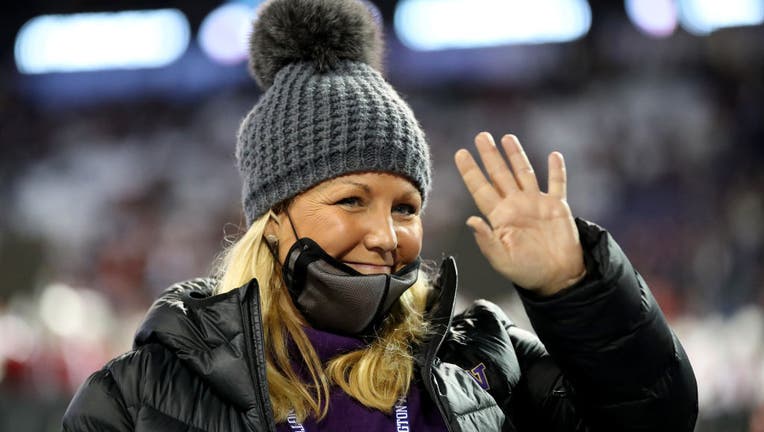 article
LOS ANGELES - University of Washington athletics director Jennifer Cohen was named Monday the next head of athletics at USC, making her the first woman to lead the Trojan athletic programs.
"Jen has more than three decades of experience in athletics and has built a reputation as a seasoned, engaged, and steadfast leader who takes a student-centered approach in building and running a winning athletics program," USC President Carol Folt wrote in a message to the USC community announcing the hire. "She is regarded as a fierce competitor who wants to win in every sport, the right way. These are also the qualities our coaches, student-athletes, staff, and faculty told me they wanted to see in our next director of athletics."
Cohen has led the athletics program at UW since 2016. She recently oversaw the university's decision — mirroring one by USC — to leave the Pac- 12 Conference in favor of the Big Ten Conference in 2024. UCLA and the University of Oregon are also making the same move.
SUGGESTED: Bronny James seen playing piano days after cardiac arrest: 'We're here right with you'
At the time of her hiring, Cohen was one of few women to hold an athletic director post at a Power 5 school.
Cohen will replace Mike Bohn, who served as USC's athletic director since 2019 but resigned unexpectedly in May, with some reports indicating there was an internal investigation into his behavior while leading the athletics program.
Folt issued a statement at the time saying, "Over the last four years, the USC athletics department has transformed into a national powerhouse. In our singular pursuit of excellence, I am committed to ensuring we have the right leadership in place to achieve our goals.
PREVIOUS COVERAGE: Mike Bohn, USC athletic director, resigns
"As part of that commitment and as we prepare to move to the Big Ten, we conducted a thorough review of the athletics department, including its operations, culture, and strategy. Having built a strong foundation over the last few years, now is the time for new direction grounded in our values and in expertise needed to fulfill our aspirational vision for Trojan athletics."
In her message announcing Cohen's hiring Monday, Folt said, "Over the past four years, we have made major investments in our athletics enterprise that have fueled a successful transformation of the program; Jen couldn't be joining us at a better time. USC is at the forefront of this transformational period in intercollegiate athletics.
"As we commenced our search for our next director of athletics, we knew we needed to identify a leader who could not only steer our athletics department through this rapidly changing environment, but also help build upon the momentum we've laid as we prepare for our move to the Big Ten conference next year. We recognized we must hire a leader who would uphold our traditions of ensuring USC student-athletes have the resources they need to succeed on and off the field, and showcase the most student-centric athletics program in the country. I am confident that she will be that visionary leader for all of USC's 21 sports teams, as well as an integral member of my leadership team and the Trojan community."