Iconic mural of Kobe and Gianna Bryant could be removed by month's end
LOS ANGELES - A petition is aiming to preserve one of the most iconic murals of Kobe and Gianna "Gigi" Bryant in Los Angeles.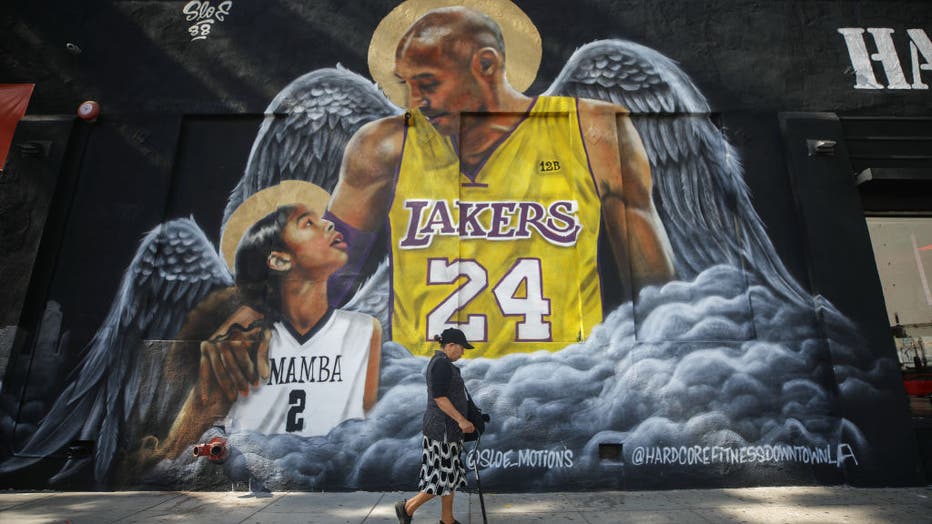 A mural depicting NBA star Kobe Bryant and his daughter Gianna. (Photo by Mario Tama/Getty Images) (Getty Images)
The mural is located at 400 West Pico Boulevard in downtown LA. It shows Gigi and Kobe wearing their respective basketball jerseys with angel wings. Now, the mural is in danger of being removed by the end of the month per the building owner's request. 
Several muralists turned to art to pay tribute to Kobe and Gigi Bryant following the tragic passing in Jan. 2020. To this day, you could say LA is painted in purple and gold in honor of the legendary Laker. 
The building's tenant, or the owner of Hardcore Fitness Cecilia Moran, tells FOX 11 the building owner is looking to use the mural space to post an advertisement. Moran said she paid artist @sloe_motions to paint the now-iconic downtown LA mural over her business.
SUGGESTED: 
"We are saddened by the recent decision to remove a beloved mural honoring Kobe and Gianna Bryant in Downtown Los Angeles," the creator of KobeMural.com wrote on Change.org.
"We believe that this mural serves as a powerful symbol of inspiration, unity, and resilience for our city. Therefore, we urge the landlord owner to reconsider their decision and keep this meaningful tribute intact," the petition continued to say. 
FOX 11 reached out to the building owner, not to be confused with the business owner, for comment but was not able to hear back as of 10 p.m. Friday.