FOX 11 Investigates: Reputation defense companies utilizing fraudulent lawsuits and illegal hacks to silence online consumer complaints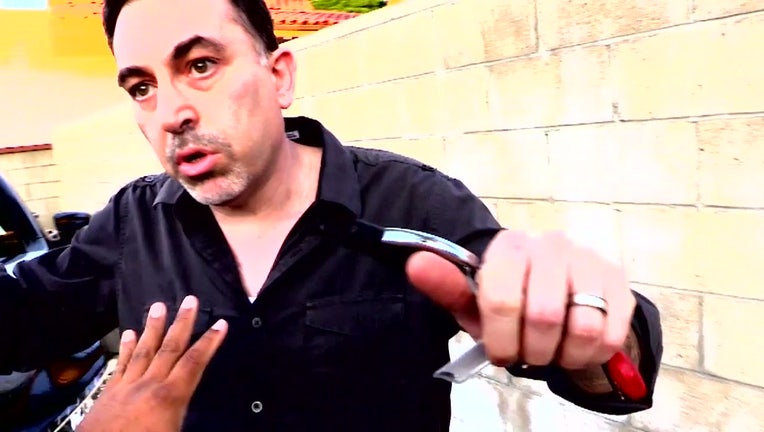 article
LOS ANGELES - A months-long FOX 11 investigation reveals some businesses are using elaborate schemes to silence online critics through the use of fraudulent defamation lawsuits, filed against people who may not even exist, and even the use of international hackers, all designed to silence consumers and their criticism. 
When Fontana resident Wayne Altman felt he had shoddy work done at his home by Ontario based Blue Haven Pools in 2005, he left a lengthy negative review on RipoffReport.com.
"My wife has a Masters in communication, and she wrote an epic, epic description of exactly what happened to us," Altman said. That negative review sat online for more than a decade before an attorney representing Blue Haven Pools filed a defamation lawsuit to try to get it removed.
"They obviously didn't like it," Altman said. But several things are "off" with the lawsuit, which was obtained by FOX 11. It was filed over two thousand miles away from California, in Duval county, Florida, and it incorrectly accuses a Florida resident named Devin Allen of writing Altman's Ripoff Report complaint, even though it was very clearly signed "Wayne."

"I put it on the Ripoff Report!" Altman said. But the lawsuit targets Allen, who is listed as a her, then as a him, and says Allen's address is uknown.That's because Devin Allen doesn't exist, and the lawsuit is a fraud. 
"There seems to be a lot of grey stuff or just outright fraud or forgery," said Eugene Volokh, a professor of law at UCLA specializing in internet and first amendment law. He tells FOX 11 he's seen these types of cases before.
"I've found about 70 forgeries, fake court orders that were sent to Google or some other organization where there basically is no case," he said.

"Somebody just made it up and hoped their wouldn't be any checking. You don't have to have a real defendant, you don't have to have a real plaintiff, that's what the forgeries show.""On its face, it looks like a complete fraud," said Anette Beebe, legal counsel for RipoffReport.com.
So why make up a fraudulent lawsuit? Beebe says the reason is simple. People who don't exist, or have nothing to do with the case, never show up to court to defend themselves, which means a default judgment, no hassle, and a court order can be sent to Google to have the complaint deindexed from the internet.
"When you name people that aren't real parties at interest and didn't write it, nobody is gonna show up and challenge the situation, and if the courts aren't careful, and they're not requiring parties to actually show up and appear, then they just rubber stamp the cases," Beebe said. 
RipoffReport accuses Palm Desert attorney Owen Mascot of filing many of these fraudulent lawsuits. Mascot was disbarred in November 2019. He was the target of a 2018 Bar complaint filed against him by Ripoff Report in 2018, in which he was accused of a fraudulent scheme to file lawsuits with fake plaintiffs and fake defendants in an effort to remove online complaints.
"He would create a fake defendant and they would get someone to sign an affidavit saying they were the author of the post so that it could come down and the court would sign off on it and then it would go to Google," Beebe said.
FOX 11 obtained one of those fake defamation lawsuits, which Mascot filed in Contra Costa county, California on behalf of his client Talent Casting Group Inc.The lawsuit targets a defendant named April Cerna, and accuses her of writing the negative review on Ripoff Report.
The lawsuit includes an affidavit allegedly signed by Cerna in which she supposedly admits to being the author of the online complaint, but Ripoff Report confirmed to FOX 11 that Cerna was not the author, and when our investigative team tracked her down in Benicia, California, and showed her the lawsuit, she denied any involvement. "I have no idea what you are talking about, I don't even know what to say," Cerna said. "I'm not answering any questions, I have no idea, you're freaking me out."
Cerna then walked away and refused to say another word.
FOX 11 tracked Mascot down in Palm Desert and questioned him on accusations of filing fraudulent lawsuits.
He called a FOX 11 producer a "mother***er" and said he had no comment. Mascot isn't the only attorney accused of using these schemes, and they aren't always successful. In Wayne Altman's case, a Blue Haven representative confirmed to FOX 11 that they hired an Ohio attorney named Aaron Minc to remove negative online reviews about their company.
Minc advertises himself as an internet defamation attorney, capable of "removing damaging content from the internet."
He can be seen in an advertisement with a man named  Pierre Zarokian, who runs a reputation management company called Submit Express."We've helped many companies get rid of Ripoff Report, and we've been successful in doing this," Zarokian says in an online video.In 2018, the FBI arrested Zarokian and charged him with felony conspiracy after he was caught paying an international hacker in Cypress to remove Ripoff Report complaints for his clients.
A FBI search warrant obtained by FOX 11 reveals chat logs between Zarokian and the hacker, in which Zarokian provides Ripoff Report links for the hacker to remove.Federal documents reveal that hacker used brute force methods to get into Ripoff Report's system and remove over 100 complaints in total. One of them was Wayne Altman's against Blue Haven Pools.
FOX 11's investigative team tracked Zarokian down in Glendale, where he pushed the camera away, and refused to answer any questions.Months after that confrontation, Zarokian pleaded guilty to his felony charges. In a sworn statement he signed with the feds, Zarokian admitted to paying the hacker $1,000 per complaint removal, then charging his client a removal fee of between $1,000 and $5,000.
Zarokian's sentencing hearing is set for March. Aaron Minc never responded to FOX 11's numerous requests for comment. 
In a statement to FOX 11, Blue Haven Pools explained why they hired him.
"After successfully building and remodeling nearly 90,000 pools in the last 25 years, we wanted to explore legitimate options for addressing a handful of very old, anonymous, online posts. We found an attorney who represented that he had deep expertise addressing these types of issues. We hired him to appropriately handle the work. We had no knowledge about the alleged improper methods that were apparently utilized by the attorney and others to whom he referred us. Had we had any reason to question his integrity, we never would have hired him," Blue Haven wrote. 
"They're hacking down a consumer complaint," Beebe said. "When the whole scheme was found out, then the reports go back up so the consumer has spent money, and may not be receiving what they pay for.
And that's exactly what happened to one business owner, who asked FOX 11 to hide his identity. "I was very scared about a complaint that wasn't true, and I wanted to get to the bottom of it," he said. 
He says he paid a highly rated reputation management company over $12,000 after they promised him they could remove a Ripoff Report complaint about his business, but he later found out that company hired Pierre Zarokian to have the complaint illegally hacked down.
"The second I heard they were doing anything wrong, I demanded my money back immediately," he said. "They preyed on my vulnerabilities and told me what I wanted to hear."He got a refund, but the complaint against his business went back up after the hack.As for Altman, despite a fraudulent lawsuit, and an illegal hack, his Ripoff Report complaint against Blue Haven Pools still exists online, after Blue Haven spent thousands of dollars trying to get it removed.
"You know, I had a very low opinion of Blue Haven when this all started, I was very disappointed, but after hearing all the things that happened subsequently to this, they've learned nothing, and that, I'm even more disgusted by," Altman said.
Two men, with two very different experiences in the murky waters of the reputation management industry."I want this to be a cautionary tale for people to be careful about the people they hire, just because it's online or someone says they can do something doesn't mean it's true," the business owner said.