Fire officials warn of dangerous fire season thanks to drought, dry fuels, danger of fireworks
LOS ANGELES - Saying they're bracing for one of the worst fire seasons on record, a group of Southern California agency chiefs urged residents in fire-prone areas to prepare themselves and their families for potential evacuations, and do what they can to clear defensible space around their properties.
Firefighters are concerned about saving life and property and with July 4th just days away they are sounding an alarm.
LA County Fire Chief Daryl Osby urged residents not to launch fireworks because he and other fire chiefs like Orange County's Brian Fennessy are "extremely worried."
Fire chiefs from around Southern California held a news conference Friday at a fire station in La Canada Flintridge. They worry about the danger fireworks pose, whether they are Safe and Sane fireworks that don't fly or explode, or the flat-out illegal ones.
"If I were king of the state I would really put an end to all of it because we do see so many injuries with kids, little kids, it's just tragic," Fennessy said.
They are also concerned about what could be a very rough fire season. Under a blazing sun, they talked about a coming heat wave and intense fire season.
"Last year was the worst fire season we've seen in California and at this point this year we are ahead of those numbers from last year both in terms of the number of fires and number of acres burned," said Chief Glenn Barley with CalFire.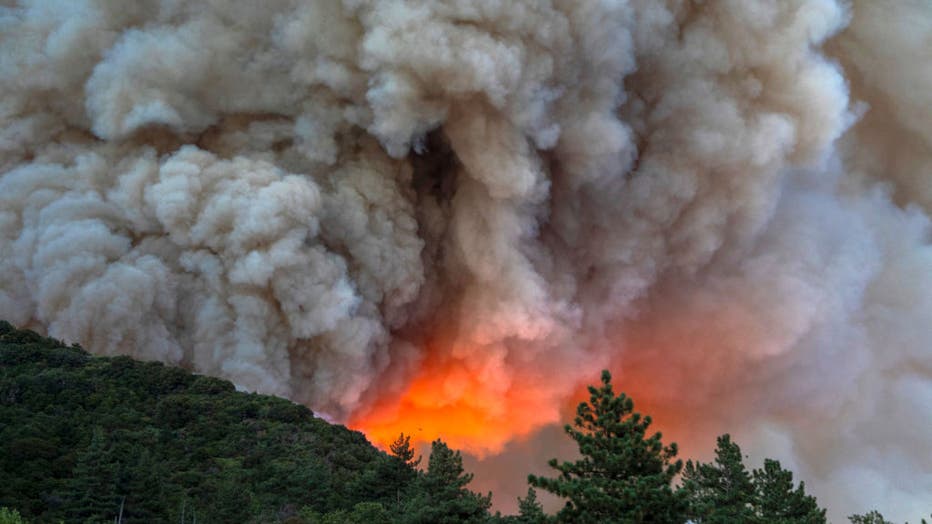 CHERRY VALLEY, CA - AUGUST 01: Flames and heavy smoke approach on a western front of the Apple Fire, consuming brush and forest at a high rate of speed during an excessive heat warning on August 1, 2020 in Cherry Valley, California. (Photo by David M
Ventura County Fire Chief Mark Lorenzen says, "We've already had significant fires and what I can share with you is that we know larger fires are coming."
Those large fires could start with fireworks... they have in the past.  People have been injured by the power of explosive fireworks, which we have seen in the past during demonstrations with such things as watermelons.
They also warned the public about persistently dry conditions that have left the region ripe for dangerous blazes that can spread quickly, particularly in areas that haven't burned in decades.
"So routinely we might see fires that might be 10-20 acres this time of year, they're up to 400-500 acres,'' Los Angeles County Fire Chief Daryl Osby said. "We're already having some of those in the Antelope Valley, Santa Clarita.''
Get your top stories delivered daily! Sign up for FOX 11's Fast 5 newsletter. And, get breaking news alerts in the FOX 11 News app. Download for iOS or Android.
He said agencies believe that large terrain- and fuel-driven fires will proliferate during the summer months, followed by significantly wind-driven fires in the fall.
Fennessy echoed those fears.
"We're seeing fire spread that is even stunning many of us that have been doing this for a very long time,'' he said. "Fire spread that quite easily could surprise many of the citizens within this region. I can't tell you how many times that I've heard people say, `You know, the fire looked a long ways off. I thought I had more time.' And next thing you know, they're grabbing everything they have and they're running.''
RELATED: California governor overstated fire prevention work
He urged residents to "not underestimate the speed of these fires,'' adding that firefighters are being given the same warning so they do not put themselves at risk being overcome by flames.
"We are in for, no doubt in my mind, I don't know if it'll be the worst ever, but it's going to be a damaging fire season,'' Fennessy said. "And I just caution the public to be prepared to move very quickly when we come in and ask them to evacuate. So fire spread is probably my greatest concern, both for the citizens and the firefighters.''
It's a loud and resounding message that fire agencies are prepared to work together to fight fires, but the public has to help by preventing them in the first place. Whether its fireworks or something else, firefighters say they are ready.
"With the extreme drought, climate change it is going to be a potential for a significant wildfire season," stated OES Fire and Rescue Chief Brian Marshall.