Elizabeth and Marlene want to be sweetie pies in a permanent home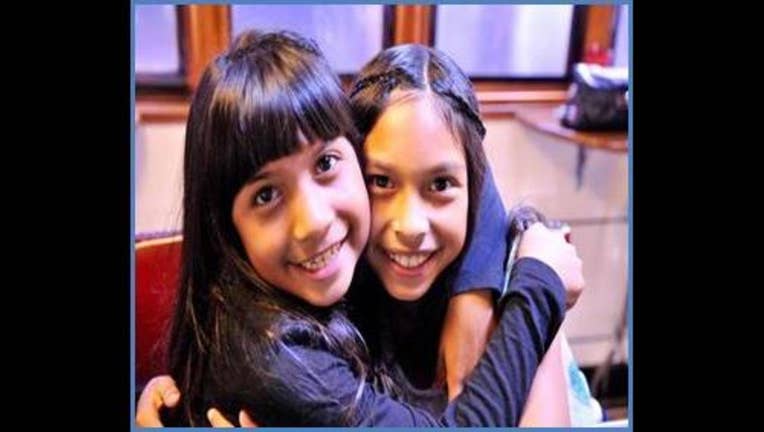 article
"Welcome to Sweetie Pies"…. No, you didn't just tune into the hit reality show by that title on the Oprah Winfrey Network (OWN). Thanks to Tim Norman, star of "Welcome to Sweetie Pies" and owner of "TJ's Sweetie Pies", Wednesday's Child brought our own "sweetie pies" - sisters Elizabeth (2007) and Marlene (2006) - to the restaurant that also serves as set for the show in North Hollywood, CA, for a down home baking bonanza!
Elizabeth (pictured left) is a cute and charming 3rd grader with a bubbly personality. Elizabeth shares that she thinks of her sister Marlene often and knows that Marlene loves her.
Marlene (pictured right), is the older sister and is a healthy, happy and outgoing 4th grader who likes school but could benefit from a bit more focused support. Marlene says she loves her sister and misses her while they are apart (they are currently in separate placements) and always looks forward to when they get to spend quality time together.
As the girls worked together to make some banana bread pudding, one could see that - given some primary direction and hands-on guidance -- their combining of some basic ingredients for the right amount of time and with caring attention was going to have positively sweet results! A similar thing could be said for an adoptive family - adding in members at the right time and providing caring attention and hands-on guidance can result in something sweetly positive!
When asked what their biggest wishes are for the holidays, the resounding theme for Elizabeth and Marlene is that they want to be together…not just for the holidays or weekend visits but daily growing up together in the same home and sharing in the day-to-day joys and woes as part of the same family. We are working to make this wish come true.
For more information about adoption:

Please call 866-921- ADOPT (2367)
Download a profile on this week's Wednesday's Child (PDF format)
Wednesday's Child is sponsored by the Dave Thomas Foundation
Check out all of the FOX 11 Wednesday's Child segments.
Copyright 2015 FOX 11 Los Angeles : Download our mobile app for breaking news alerts or to watch FOX 11 News | Follow us on Facebook , Twitter and YouTube .