Here's what's new at Dodger Stadium
LOS ANGELES - Opening Night at Dodger Stadium is here!
To celebrate the start of the 2023 season, the Los Angeles Dodgers recently announced some new additions to the stadium that will debut on Thursday, March 30.
Take a look!
New state-of-the-art lights
This offseason, the Dodgers replaced all Field Lights with LED Lights. Not only are the LED lights more energy efficient, but they also have color-changing abilities, enhancing the fan experience by utilizing the lights more creatively for on-field celebrations, concerts, etc.
The system's 600 fixtures are part of a unique complete system design, which delivers superior performance and reliability along with a number of key benefits including better visibility for both players and fans, reduced energy consumption and environmental impact, and minimized glare and spill light.
The new lighting was installed over the course of two months, with the previous HID fixtures — which were installed in 2008 — removed and parts recycled. Dodger Stadium now joins more than a dozen MLB stadiums that feature customized LED technology, including other similarly iconic venues such as Wrigley Field and Fenway Park.
Uniform retirement
Legendary left-handed pitcher and Dodger Spanish broadcaster Fernando Valenzuela will have his number 34 retired in August.
Gil Hodges' Retired Number has been added to the Bank of America Retired Numbers Plaza at the Top of the Park.
New areas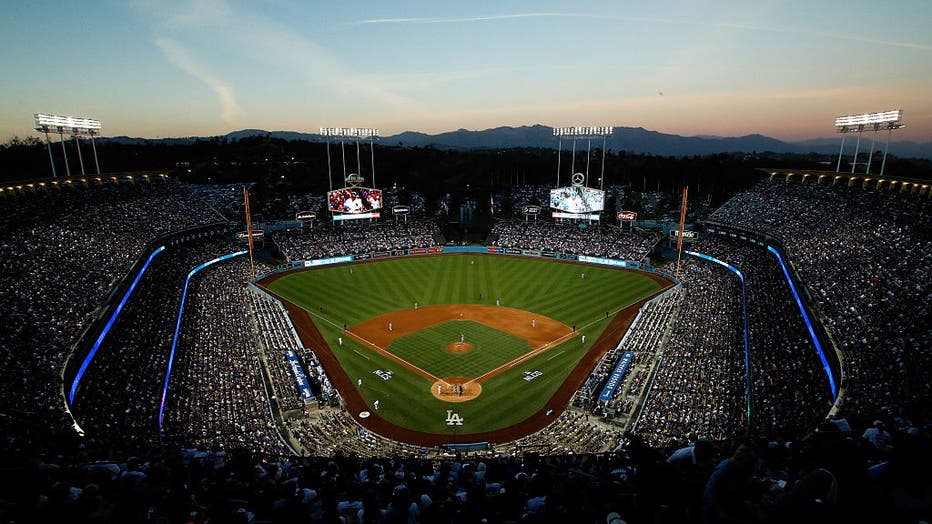 File photo of Dodgers Stadium on October 20, 2016. (Photo by Josh Lefkowitz/Getty Images)
New furniture and seating in the Stadium Club and a new 19 ½' Stadium Club LED Board and sound system have been installed in the Stadium Club.  
Larger TVs, including a 100" TV, have also been added to the Stadium Club for enhanced game viewing experiences. Displays have also been added in parts of the Stadium Club, giving the Club a refreshed look and feel to go along with the new technology.
Vin Scully Ring Display 
The newest addition to the hallway behind the Vin Scully Press Box is a display case featuring a collection of some of Vin Scully's most significant awards. The collection includes:
1955 World Series Ring
1963 World Series Ring
1980 All-Star Game Ring
1981 World Series Ring
1988 World Series Ring
2020 World Series Ring (on loan from the Scully family)
(2) Emmy Awards (on loan from the Scully family)
2016 Medal of Freedom (on loan from the Scully family)
Food and drinks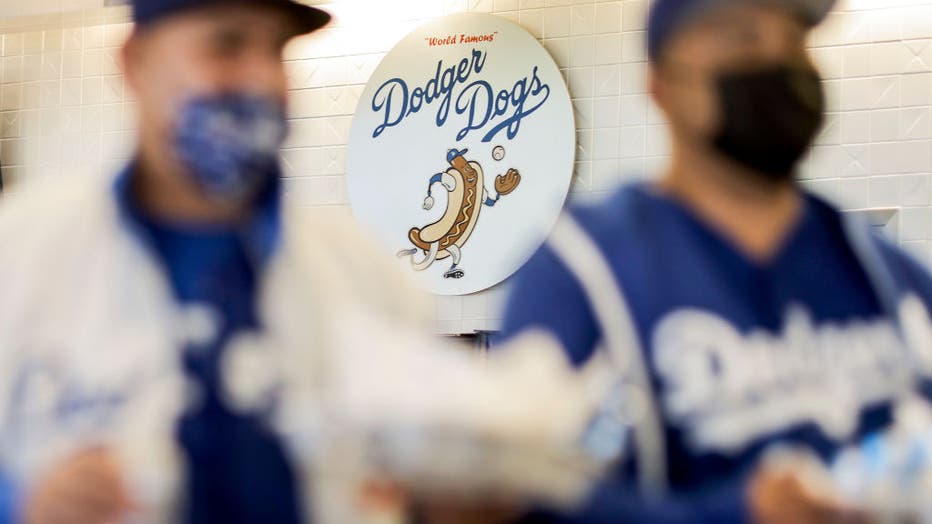 A general view of a Dodger Dogs sign as fans take their food back to their seats prior to a game between the Los Angeles Dodgers and the Cincinnati Reds at Dodger Stadium on April 26, 2021 in Los Angeles, California. (Photo by Michael Owens/Getty Ima
Chef Ryan Evans has added several new culinary delights to his lengthy menu for fans this season as well as some new signage to the stands.
The list of new items includes:
LA Cheesesteak (Stand 208 field)
Philly Cheesesteak Sandwich
Amoroso roll, Cheese Whiz, sautéed beef
Wild Mushroom Philly Sandwich
Amoroso roll, mushroom blend, provolone cheese
Philly Chicken Sandwich
Amoroso roll, sautéed chicken, Kraft mayo, provolone cheese
Dunkin (Stand 246 field) & Trolley Treats (Stand 702 reserved)
Fried Cheesecake on a stick
NY Style Cheesecake hand dipped in tempura batter, topped with powdered sugar raspberry sauce
Flamin' Hot Corner (Stand 247 field)
Hot link Corn Dog
Chipotle sausage hand dipped in corn batter, cheese sauce, hot Cheeto dust
LA Grille (Stand 245 field)
Mediterranean Chicken Bowl
Marinated chicken, basmati rice, diced tomatoes, cucumber salad, hummus, tzatziki, shredded red cabbage salad
Mediterranean Falafel Bowl
Falafel, basmati rice, diced tomatoes, cucumber salad, hummus, tzatziki, shredded red cabbage salad
Greek Fries
Crinkle cut fries, gyro meat, feta cream sauce, tomatoes, Kalamata olives, sliced red onions, pepperoncini, feta cheese
Think Blue BBQ (Stand 251 field)
New BBQ platter
½ rack smoked pork ribs, smoked half chicken, smoked brisket, mac and cheese, cornbread, fresh corn, baked beans
Taqueria (Stand 360 centerfield)
Potato taquitos
6" tortilla, mashed potatoes, shredded lettuce, diced tomatoes, charred jalapeño aioli, queso fresco
Dodger Deli (Stand 437 loge)
Chicken Pesto Panini
Sourdough bread, sliced marinated chicken, herb aioli, sliced tomatoes, Swiss cheese
Fan Fare (Stand 731 reserved)
Chicken Sandwich
Grilled chicken, leaf lettuce, sliced tomatoes, Swiss cheese, garlic aioli, potato bun
Dodger Rewards
The Dodgers will be introducing Dodger Rewards presented by Mastercard, the official fan loyalty program of the Los Angeles Dodgers.
By signing up for Dodger Rewards, fans can earn points for the actions you are already doing, get access to Dodger Pay, and Dodger Rewards exclusive sweepstakes including the chance to win tickets, memorabilia and much more! For details, tap or click here.
Merchandise collabs
Opening Day at Chavez Ravine will see a further expansion of merchandising collaborations. In recent years collaborations have included Undefeated, Union Los Angeles, Born X Raised and Bricks and Wood.
New this time is a collaboration with the legendary Los Angeles-based tattoo artist and creative Mister Cartoon. Check out a reimagined Los Angeles Dodgers player T-shirt series beginning on Opening Day, featuring three players — Mookie Betts, Julio Urías and Freddie Freeman. 
Drone show
Photo courtesy Los Angeles Dodgers
The all-new live drone show is part of the Dodger Stadium Friday Night Light Shows beginning this Friday after the game vs. the Arizona Diamondbacks.
For more information on when to catch the drone show or special fireworks show, tap or click here.
First pitch is Thursday at 7:10 p.m. PT. The game will air on Bally Sports Arizona, SportsNet LA, 98.7 FM Arizona Sports and Dodgers Radio AM570.