Did Dodger Stadium flood? Viral photo from Tropical Storm Hilary debunked
LOS ANGELES - Tropical Storm Hilary was downgraded from a Category 3 hurricane as it made landfall in Los Angeles on Sunday, but not before prompting a series of heavy wind, rain and flash flood advisories across LA County.
Officials warned locals to "stay indoors" and "hunker down", so Angelenos watched the storm unfold through photos and videos online instead. 
One such photo of the Dodger Stadium shot from up above went viral. It appeared that the entire sports arena flooded during the storm.
The photo of "Lake Dodger Stadium" garnered millions of views over the weekend, and was even seemingly validated by a helicopter video shot over the same scene.
But true sports fans remained skeptical, noting that the parking structure in the stadium was not set up in a way to flood like that. 
And when SkyFOX flew overhead Monday morning, no such flood was visible.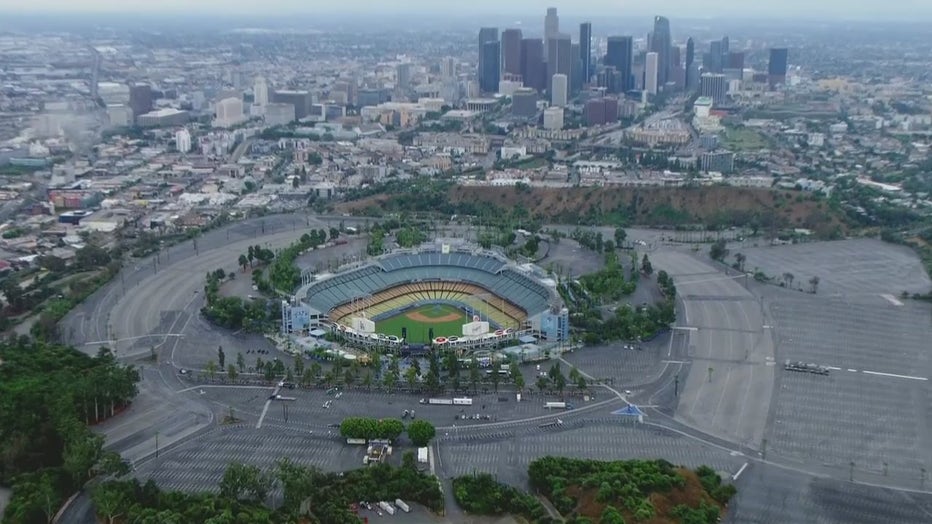 Photo taken by SkyFOX of Dodger Stadium on Aug. 21, 2023, at 8 a.m. following Tropical Storm Hilary. (FOX 11)
RELATED: 
So, did Dodger Stadium actually flood?
FOX 11 meteorologists say: not exactly.
Dodger Stadium is located on a hill, making it an unlikely area to be prone to flooding, FOX 11 meteorologists report. In fact, there's another theory going viral.
FOX 11 meteorologists agree with fans who believe the photo to be an optical illusion. The Dodger Stadium parking lot is famously uneven, with the outer field parking at the lowest level and the lot behind center field several stories higher. 
So, what actually happened? Large puddles accumulated in the parking lot during the storm's heavy rainfall. The sky then reflected light onto the sitting puddles in the parking lot, creating the illusion that the stadium was flooded.
Luckily, Dodger Stadium did not actually flood during the storm. But, in true Hollywood form,the alleged "Lake Dodger Stadium" certainly knows how to make headlines.