Disturbing Skid Row dog conditions spark online petition for change
LOS ANGELES - An online petition launched by animal activists shows disturbing images of dogs living under deplorable conditions in Los Angeles' Skid Row.
The petition claims pit bulls in downtown LA are being kept in cages, being chained up or repeatedly bred to sell puppies. The recent heatwave has made the situation even more urgent for the City of LA to take action. 
"We are asking Mayor Karen Bass and general manager of Animal Services Staycee Dains to sit down with Animal Rescue Mission and Stand Up for Pits Foundation to discuss solutions working together" it reads.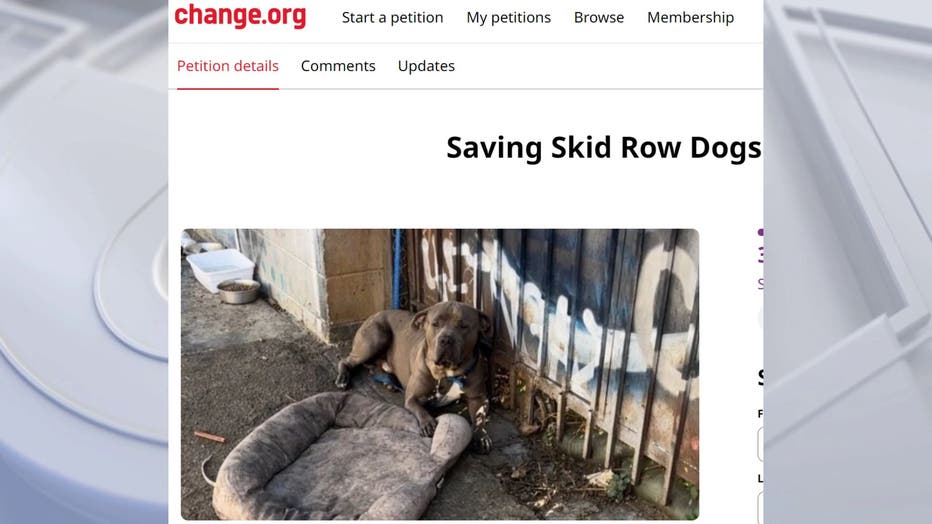 Rebecca Corry from the LA office of StandupforPits.us says they have offered to spay and neuter pit bulls on Skid Row. However, the homeless residents who own the dogs have refused the community's offer as they continue to sell the pups for as high as $300 each.
"Those who should be doing something about it are doing nothing," Corry said.
She adds the situation has exploded, especially after the COVID-19 pandemic.
It's true, says Lycia Naff, from DrivebyDoGooders.org, who has spent the last 10 years delivering supplies for the humans and the animals living on Skid Row. 
"We don't want to alienate the people, but the existing laws are not being enforced by Animal Services," Naff said. 
Naff echoes volunteers we've talked to, who say if you don't stop the breeding, you can't stop the excess of abused animals that would end up in already overcrowded shelters. 
The videos on the petition have been sent to Animal Services, who we reached out to, along with the Mayor's office.
Staycee Dains, the general manager of Los Angeles Animals Services, issued the following statement:
"We take any allegation of animal abuse and breeding very seriously. Animal services is actively investigating this complaint, and myself and officers have been dispatched multiple times since this complaint was lodged. We will continue to act and investigate as necessary to ensure the safety of all dogs across the city."
You can see the petition, and if you want to reach out to the organizations we spoke to, they say they could use the help. Donations are critical for their work.
Stand Up For Pits Foundation and DrivebyDoGooders.org are both on social media platforms.