Disneyland Magic Key settlement: See if you're eligible for payout
LOS ANGELES - If you have a Disneyland Magic Key pass, you may be eligible for a payout as part of a $9.5 million class-action lawsuit. 
A preliminary agreement was reached last week between the Walt Disney Company and plaintiff Jenale Nielsen, who filed the lawsuit in 2021 on behalf of all former Dream Key holders, accusing the company of alleged false advertising. 
According to the lawsuit, Nielsen bought the highest-tier Dream Key for $1,399, in part because the theme park's advertising claimed it had "no blockout dates." But when she tried to make a park reservation, Nielsen said she was "disappointed to learn that Disney had already blocked out many days, including all weekend days in the month of November 2021."
SUGGESTED: Disneyland launches Halloween Time 2023
Disneyland offers four Magic Key passes. The most expensive tier, which used to be called the "Dream" key, touted admission "every day of the year," according to a company press release from 2021. 
The new most expensive option, now called the "Inspire" key, only assures access to theme parks "most days of the year," according to Disneyland's website.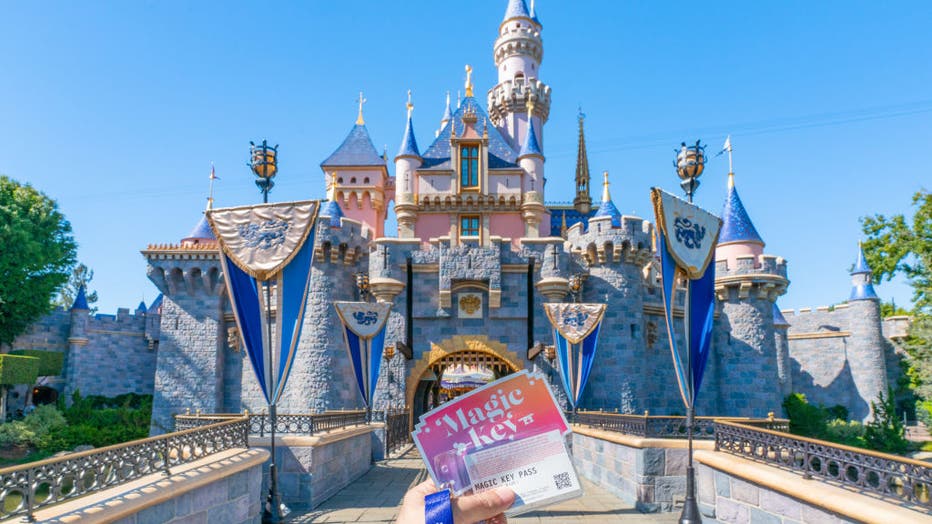 General views of Sleeping Beauty Castle at Disneyland on August 14, 2022 in Anaheim, California. (Photo by AaronP/Bauer-Griffin/GC Images)
"It was misleading and fraudulent for Disney to sell passes that were advertised as having no blockout dates and not inform Ms. Nielsen and other consumers that Disney was reserving the right to make park reservations 'unavailable' whenever it wanted and even when park reservations are and were actually available," the complaint said.
SUGGESTED: Disneyland makes big change to popular perk
Due to this preliminary approval, those who purchased a Dream Key are eligible for compensation. According to the lawsuit, the settlement will be split evenly among the more than 100,000 Dream Key pass holders affected, amounting to about $67 per person.
SUGGESTED: Disneyland 2023 holiday season festivities announced
A website will be set up for those eligible to read the terms of the agreement. Officials said no claim forms need to be filed for the settlement. Those eligible for a payout will be contacted by email.
A hearing on the motion to settle the lawsuit is scheduled for October 16 in U.S. District Court in Los Angeles.
At this time, sales of the Inspire Key are paused, a decision that officials said was made before the results of the settlement were released.