Flock of unsuspecting Canada Geese land in La Brea Tar Pits, treated for burns
LOS ANGELES - A flock of Canada Geese mistakenly landed in the sticky goo of the La Brea Tar Pits, where many suffered serious injury and death. Those who survived are being cared for at the International Bird Rescue.
Of the 15 geese in the flock who landed in the pits in late July, seven experienced burns from the heavy oil, and required immediate medical attention. They were rescued from the scene and cared for at Bird Rescue's Los Angeles Wildlife Center. Upon arrival, the birds were so covered in tar they were unable to stand and were barely recognizable.
The bubbling tar at the La Brea Tar Pits is considered "asphalt," the lowest grade of crude oil, according to the museum. When small mammals, birds or insects come in contact with the oil, they are immediately immobilized, as if trapped like flies on flypaper. Once stuck, the animal risks severe burns and even suffocation.
The staff at Bird Rescue medically stabilized the birds and removed enough tar to allow them to breathe and eat properly. While tragically, five of the flock died shortly after arrival, the team successfully rescued two survivors, who continue their recovery from both burns and feather loss.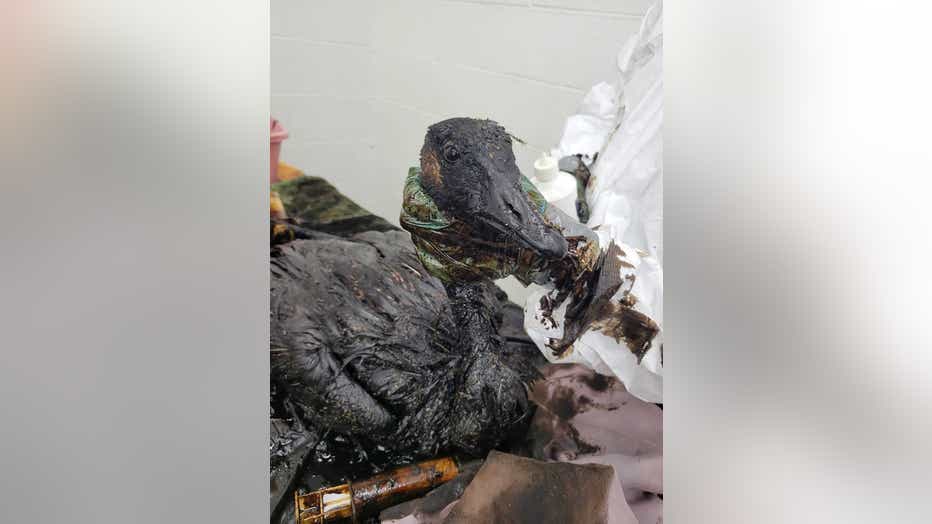 Canada goose treated for oil burns after landing in the La Brea Tar Pits. Photo Credit: Kadi Erickson, International Bird Rescue.
"It's heartbreaking to see accidents like this occur," said JD Bergeron, CEO of Bird Rescue. "Birds in a changing world face dwindling natural habitat and lack of habitat is a big problem for the wild animals that call Los Angeles home. It is natural for animals to become trapped in the tar, but in a huge city with little wildlife habitat, the lake can look very attractive to animals."
While the Lake Pit, the museum's main tar pit located near the entrance, is fenced off from the public, there is nothing currently in place to discourage birds from accessing it from above.
Bergeron also added that the Lake Pit was created by "people mining for asphalt and still presents a great risk to wildlife."
More than a third of Los Angeles' bird species have declined in the last century due to urbanization and climate change, a new UC Berkeley study reports.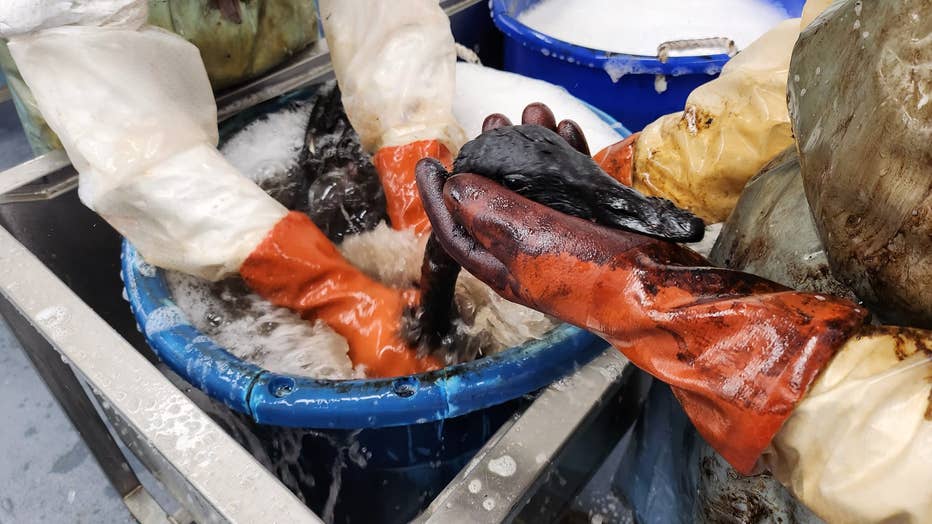 Canada goose treated for oil burns after landing in La Brea Tar Pits. Photo credit: Kadi Erickson, International Bird Rescue
Bergeron said that Bird Rescue continues to research ways to deter wild birds from these types of hazards.
"The best-case scenario is to prevent these injuries from happening," said Bergeron. "Until then, we rely on public support to pay for extensive medical care and costly treatments."
For more information on Bird Rescue and donations, please visit www.birdrescue.org/donate/