CHP officer, two others seriously injured in crash on the 10 Freeway near DTLA
LOS ANGELES - A California Highway Patrol motorcycle officer and two other people were seriously injured Thursday in a multi-vehicle crash that prompted the closure of the westbound 10 Freeway near downtown Los Angeles.
Paramedics were sent to the freeway near Normandie Avenue at 10:43 a.m., according to the Los Angeles Fire Department.
The CHP officer was on the freeway attempting to clear an earlier accident when a suspected drunk driver sped along the shoulder, to get around traffic, and hit another vehicle.  
"A Nissan Altima driving at high speeds, within the left shoulder was passing traffic and ended up collided with the CHP motorcycle. The motorcycle was then pushed into the officer, the officer was then pushed into the vehicles that were on the freeway," stated CHP officer Roberto Gomez. 
The driver and his passenger ran from the Altima.
Javier Nunes was on his way home from work, driving eastbound on the 10, when the collision occurred. 
"Then I saw a guy get out and he jumped over the wall, jumped over to the eastside of the freeway. And I see him approaching cars, going up to cars like asking for a ride or trying to get into the car," said witness Javier Nunez.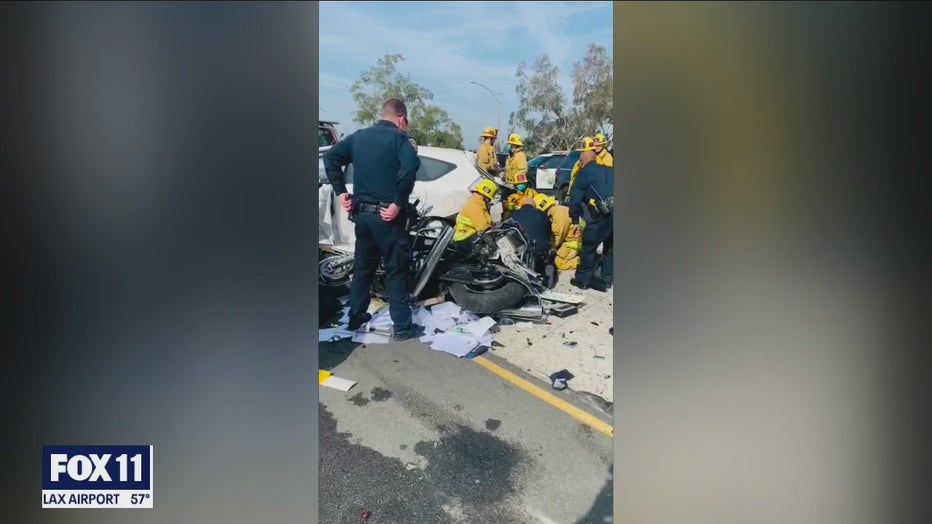 According to CHP, a couple of Good Samaritans ran after the driver. The suspect was then arrested. 
The CHP officer, along with the tow truck driver and one other person were transported to the hospital. 
The westbound 10 freeway was shut down for hours and finally opened up around 3:30 p.m. 
 
Get your top stories delivered daily! Sign up for FOX 11's Fast 5 newsletter. And, get breaking news alerts in the FOX 11 News app. Download for iOS or Android.