California super bloom visitors warned to stay away or face citations
LAKE ELSINORE, Calif. - The beautiful, rare phenomenon known as "super bloom" could return to Lake Elsinore for the first time since 2019, but authorities have issued a stark warning that's all but bright for those wanting to flock to Walker Canyon for some pictures.
"We understand that while it's a natural phenomenon and a lot of people want to view the beauty of Lake Elsinore and it is absolutely stunning, our residents' priorities and their safety, as well as preservation of the land, is the most important part," local officials said.
There is a zero-tolerance policy for trespassers and anyone who parks on the sides of the roads, said Riverside County Sheriff Chad Bianco. This is especially due to the tight area surrounding Walker Canyon, which has small roadways and nowhere to park.  The area is closed to the public.
If you are caught, you will face a citation and your vehicle possibly towed, he warned. The cost of the citation will be up to the court.
"We don't want anyone coming here thinking that they'll pay the fine and be good with it. It's a misdemeanor infraction subject to arrest," Sheriff Bianco said.
PREVIOUS COVERAGE: Will there be a super bloom in California 2023?
The warning comes after the "poppy nightmare" that ensued in 2019 during the last super bloom in the area, which brought in thousands of people to the area, disrupting the day-to-day lives of residents for weeks.
"We are doing this in response to what we had the last time and just the really complete - I don't want to say non-cooperation - the amount of people with no regard for others who were here and the property around here, is what is prompting this response," Sheriff Bianco said.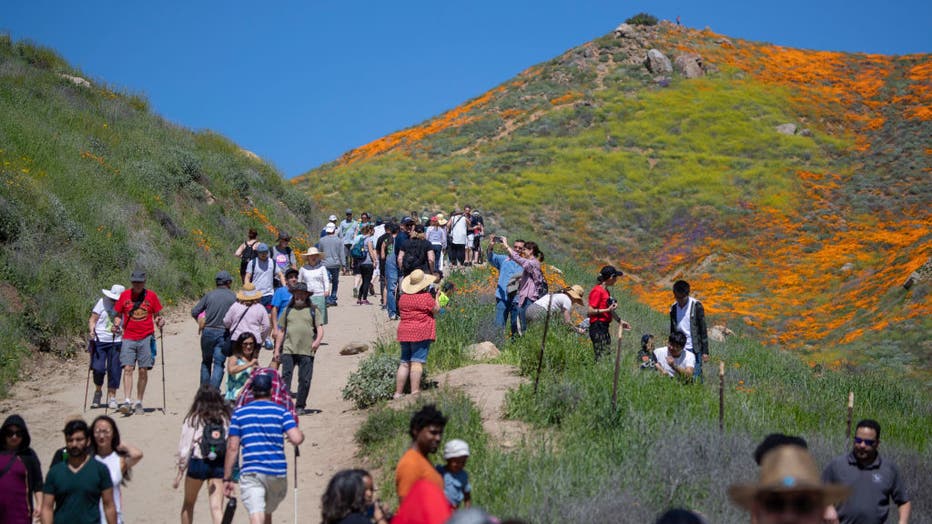 Large crowds fill the path to view the super bloom at the Lake Elsinore Poppy Fields in Walker Canyon after the city closed the area on March 18, 2019 in Lake Elsinore, California. (Photo by Allen J. Schaben/Los Angeles Times via Getty Images)
Those who don't usually hike are also discouraged from traveling the trails as they are "not suitable for people that are not accustomed to hiking in hills and in mountains." Sheriff Bianco said many people who suffered injuries during hikes to see the super bloom the last time around had to be rescued.
"If you want to enjoy the poppies, there will be plenty of photos of people that are posting them, how they got them I have no idea. But please, we're just asking you to stay out of the area," he added.
The city encourages people to view its live webcam pointed directly at Walker Canyon to see the poppies instead.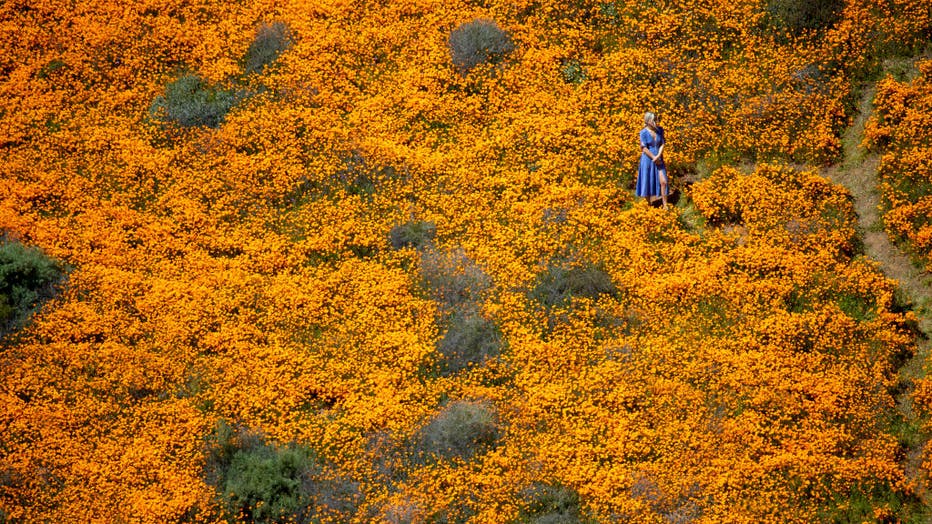 Surrounded by the Super Bloom, a visitor takes in the scenery while taking photos in the middle of the Lake Elsinore Poppy Fields in Walker Canyon after the city closed the area on March 13, 2019 in Lake Elsinore, California. (Photo by Allen J. Schab
"It was kind of like out of the movie... the freeway was stopped… people were getting out of their cars and walking the hillsides," officials described the 2019 scene. "The flowers were beautiful, the scene was a nightmare."
Neighborhoods significantly impacted by the influx of visitors were the north end of Lake Elsinore, down Lake Street, the Bar Hill community, the North Shore, and McVicker Canyon.
RELATED: Satellite images show Southern California's beautiful super bloom from space
"Quite honestly, there wasn't a neighborhood that wasn't touched as far as the gridlock and the back-up throughout all 44 square miles of city."
"There was a sea of people, all ages, all different types of enthusiasts to come see the poppies. Many not even prepared for what we would call a pretty moderate to difficult hike. You couldn't park or exit any of our five exits up and down the I-15 corridor. You couldn't go to the grocery store. Some people could not even go to work and get to their day-to-day life. First responders, medical emergencies… we're having challenges getting through the traffic to get to our neighborhoods and our communities."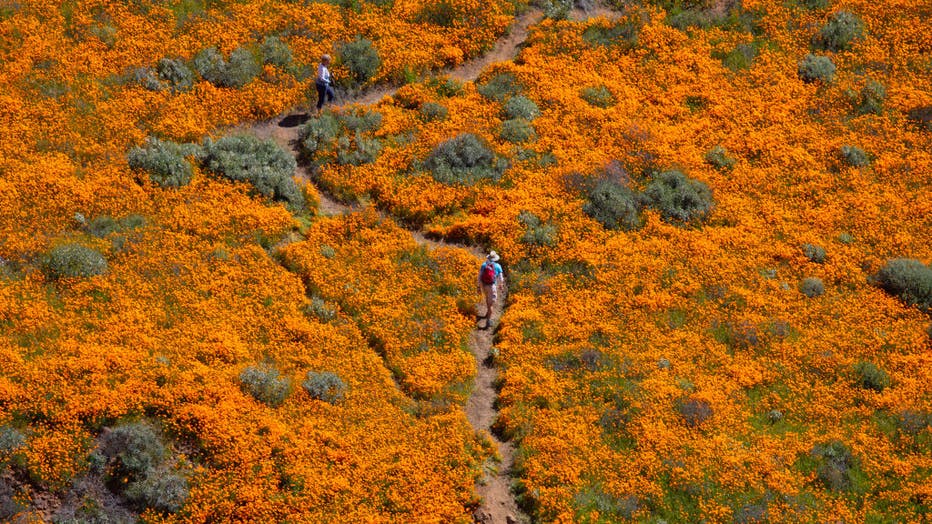 Surrounded by the Super Bloom, visitors hike in the middle of the Lake Elsinore Poppy Fields in Walker Canyon after the city closed the area on March 13, 2019 in Lake Elsinore, California. Calling the stampede a "poppy nightmare," Lake Elsinore offic
Access to Walker Canyon is controlled by County Parks, but there is also private land located in a deeper part of the area.
"The behavior was unacceptable. It was hot. People were aggravated. They were waiting hours to be queued to walk up a hill. And there were some pretty intense situations where people got heated and really upset. But I will say most that frustration stemmed from our residents. They were probably the most angry because they couldn't, they didn't have any quality of life for almost three weekends," officials said.
RELATED: Rain brings 2nd California super bloom in 2 years
The super bloom was so popular in fact that the Riverside Conservation Authority enacted new policies and procedures for potential super blooms.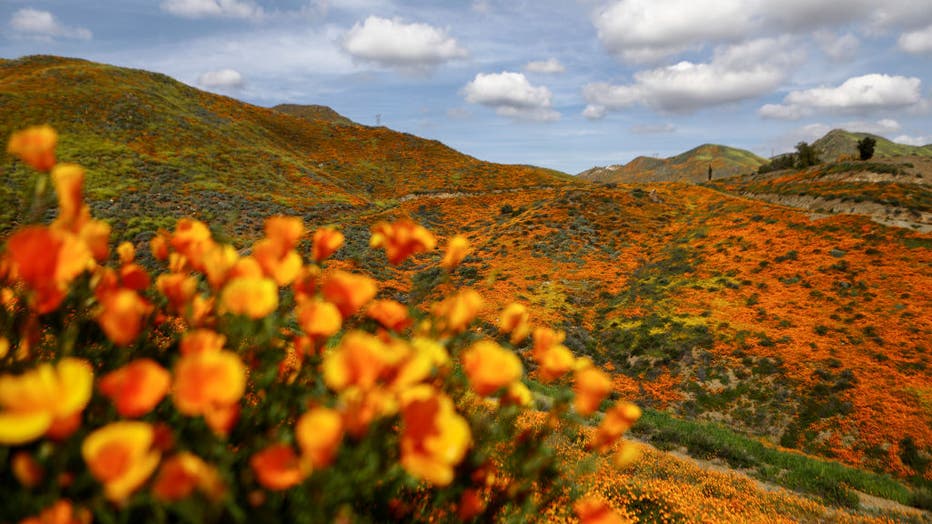 A 'super bloom' of wild poppies blankets the hills of Walker Canyon on March 22, 2019 near Lake Elsinore, California. (Photo by Mario Tama/Getty Images)
Increased patrols in the area are already underway, according to Craig Palmer, CHP Lieutenant for the Riverside area, to ensure traffic safety and congestion relief. Drivers are reminded freeway shoulders should only be used for emergencies only. If you see someone stopped on the shoulder, move over and slow down.
When exactly will the super bloom happen? There isn't a specific date or timeframe, because it's rather unpredictable. 
"Truly, the unique and caveat to all of this is the poppies are unpredictable. We don't know when they'll bloom. We don't know of what size they will be," officials said.
This year, most of the state experienced more than 50% above-average rainfall, largely in part to an atmospheric river that ravaged the state in early January. However, although ample precipitation is essential for a super bloom, too much rain and flash flooding could wash away the seeds before they are able to take root. Dry winds and extreme heat could also hinder seed sprouts and plant growth.
In simple terms, environmental and weather conditions must be perfectly aligned for a super bloom to occur.