Will there be a super bloom in California 2023?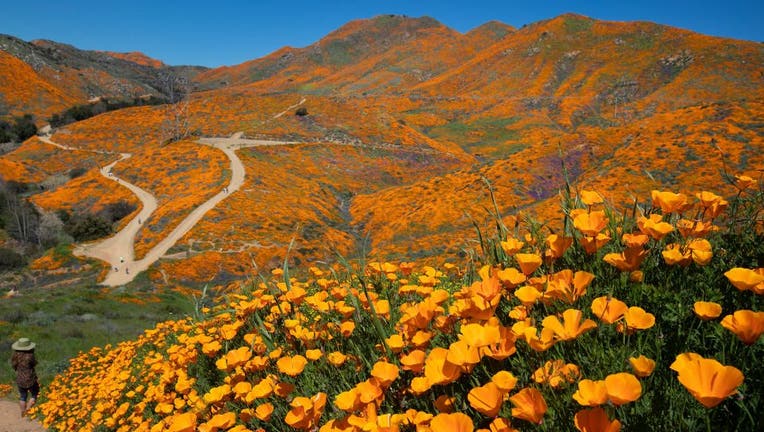 article
In 2017, California experienced its first super bloom in nearly a decade. Wildflowers canvassed the mountaintops and valleys in California again in 2019 after steady rains followed by warm temperatures caused seeds dormant for decades under the desert floor to burst open and produce a spectacular display dubbed the "super bloom."
In California, super blooms happen about once in a decade in a given area, and they have been occurring less frequently with the drought, but 2017 and 2019 proved that the phenomenon could really happen at any time. 
This year, most of the state experienced more than 50% above-average rainfall, largely in part to an atmospheric river that ravaged the state in early January. However, although ample precipitation is essential for a super bloom, too much rain and flash flooding could wash away the seeds before they are able to take root. 
RELATED: Rain brings 2nd California super bloom in 2 years
In addition, there are other weather and environmental conditions that need to occur. The areas will also need warm temperatures leading up to the super bloom in order to help germinate the seeds to promote growth. Dry winds and extreme heat could also hinder seed sprouts and plant growth.
In simple terms, environmental and weather conditions must be perfectly aligned for a super bloom to occur.
RELATED: Satellite images show Southern California's beautiful super bloom from space
In 1903, the California Poppy became the Golden State's official state flower, and during the 2019 super bloom the poppy fields at Lake Elsinore's Walker Canyon Trail were so vibrant, you could see the breathtaking display from space.