'We just want laws to protect us': California jewelry store wants change after robbery scare
EL MONTE, Calif. - A jewelry store in California fights back against a large man who tried to rob the business. The would-be suspect lost his shirt, in addition to getting beat by a stick in the robbery fail.
A man dressed in all black walked down El Monte's Main Street, holding an empty box. Before walking into Meza's Jewelry and started firing what appeared to be a bear spray at the employees inside and a man sitting outside the business.
The suspect broke out a hammer and started breaking the cases inside. The store's owners and workers jumped in to stop the would-be robber.
A struggle then ensued, with someone from the store teeing off on the suspect with a stick. The suspect's robbery mission ended up being a total failure for him as he ran off empty-handed and lost his shirt.
PREVIOUS COVERAGE: El Monte jewelry store employees fight off attempted smash-and-grab robber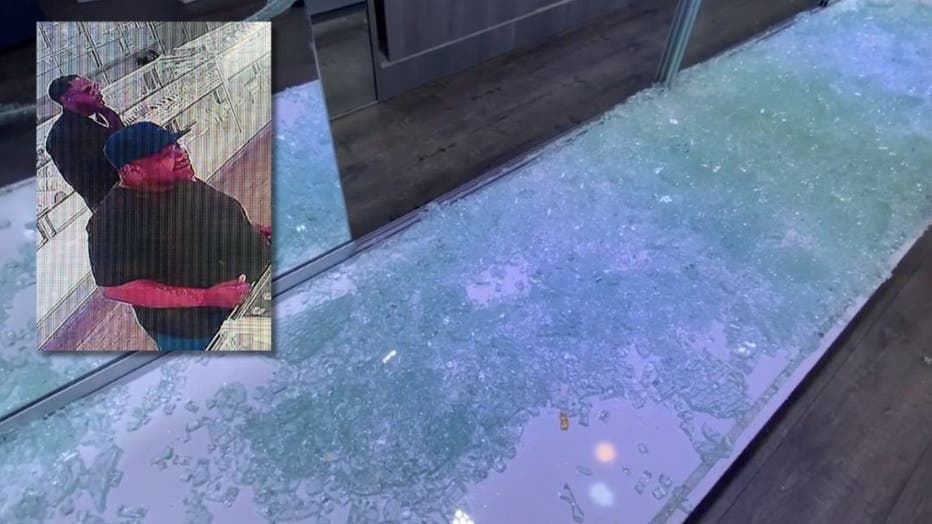 Now, unflattering pictures of the shirtless suspect are being shared on social media and by police in El Monte: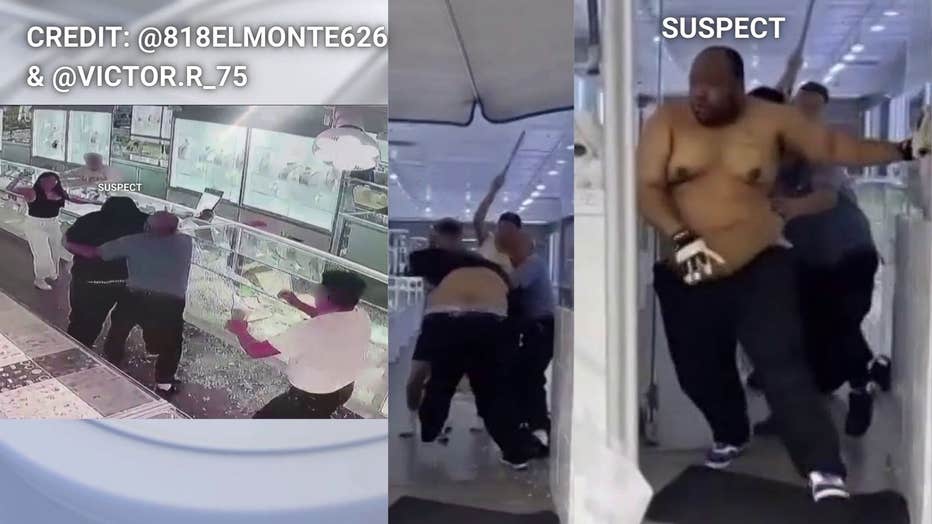 When asked why the family-owned jewelry store fought back, the owners say their livelihoods were at stake.
"We worked so much for it," said the store's co-owner, who did not want her name publicized. "We used to work day and night – and just to have someone to come and grab your stuff – it's not fair."
As Meza's Jewelry joins a long list of Southern California businesses targeted by would-be smash-and-grab robbers, the family is now asking for change at a higher level.
"We pay taxes," the co-owner said. "We're good citizens… We just want laws to protect us, to protect the business, to protect regular citizens."
As of Sunday night, no arrests have been announced in the smash-and-grabbed-nothing robbery fail.
The El Monte incident marks the latest in California store employees fighting back against would-be robbers. Up in Stockton, two 7-Eleven workers took matters to their own hands by not only stopping a would-be robber, but giving him a beatdown heard-around-social media. The viral beatdown left the man filming the incident on his phone to yell, "That's called whoopin' your ***!"
SUGGESTED: 7-Eleven workers beat would-be robber with stick until suspect starts crying