VIDEO: El Monte jewelry store employees fight off attempted smash-and-grab robber
EL MONTE, Calif. - Several jewelry store employees in El Monte sprung into action and thwarted an attempted smash-and-grab robbery - and it was all caught on camera. 
The incident happened Saturday around 2:20 p.m. at Meza's Jewelry located at 10900 Main Street, according to a watch commander at El Monte Police Department.
Video shows the suspect fighting with employees and having his shirt stripped off him in the brawl. The suspect also allegedly sprayed pepper spray at the workers and shattered multiple jewelry display cases in an attempt to steal merchandise but was not successful.
Store employees told FOX 11 the would-be thief was wearing a Donald Trump Halloween mask, which was covered upon entering the store. That mask apparently came off at some point during the melee and was turned over to police as evidence.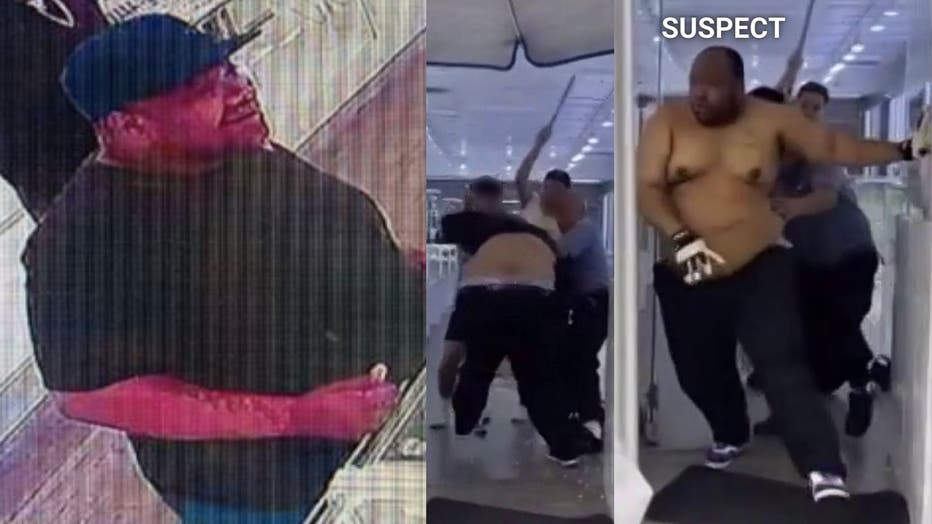 The suspect reported left the scene in a gray Dodge Charger. Police described him as a man about 6'1" tall, weighing between 270 and 300 lbs., with some facial hair and possibly a mustache. 
No employees were injured.
Anyone with information is asked to call the El Monte Police Department at 626-580-2100. Tipsters wishing to remain anonymous can call Crime Stoppers at 800-222-TIPS.
City News Service contributed to this report.