Edwin Castro identified as $2.04 billion Powerball jackpot winner
LOS ANGELES - The California resident and winner of the record-breaking $2.04 billion Powerball jackpot has come forward and was identified by officials during a press conference Tuesday, per California law.
According to California Lottery officials, the single winning ticket for the Nov. 7 drawing was purchased by Edwin Castro and sold in Los Angeles County at Joe's Service Center located at 15 W. Woodbury Road in Altadena.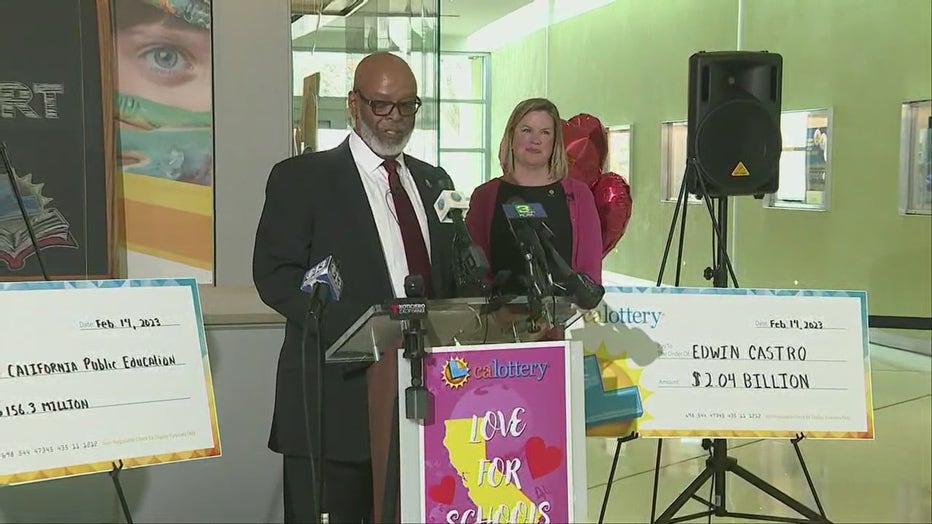 The sole winner of the record-breaking Powerball jackpot worth $2.04 billion was identified Tuesday during a press conference by lottery officials as Edwin Castro.
While Castro was not present for the announcement and declined the opportunity to do media interviews or appear on stage, he released the following statement:
State lottery director Alva V. Johnson said Tuesday that the November Powerball drawing raised a record $156.3 million for the California  public school system. He said that amount contributed to a record-setting fiscal year for the California Lottery, with more than $2 billion raised for public schools for the first time.
"These numbers represent promises kept since voters created the lottery in 1984 with the explicit purpose and intent to raise supplemental funding for public education," Johnson said. "That's our mission."
RELATED:
The jackpot was the largest ever for Powerball and the largest in U.S. lottery history. Only four previous jackpots have ever topped $1 billion, but none of those are close to this prize, which started at $20 million back on Aug. 6 and over three winless months had grown ever more massive.
The single winning ticket will earn a prize of $1.9 billion, according to the California Lottery. The winner had a choice of receiving the money over 30 annual payments or a lump sum. Castro chose to receive the lump sum payment, which totals to $997.6 million.
"Edwin Castro's name is now part of public record. As with all of our winners, but in an effort to balance transparency with privacy, that's the only information that's subject to public record," officials said. "We don't reveal our place of residence for our winners, not ages, ethnicity or any other identifying information. And that's a great deal of respect we have for our winners' privacy. But we also like to humanize the lottery. We like to reveal the names of our winners, particularly those who win top prizes like Mr. Castro."
Joe's Service Center also earned $1 million for selling the winning ticket.
"I would like to thank all the community (who) support me," said Altadena store owner Joseph Chahayed, who has owned and operated Joe's for the past 20 years. "And I would ... I encourage you to buy a ticket from this station. ... You're going to be a winner too."
"I will share it with the family ... with my kids, my grandchildren," he said. "I have 11 grandchildren, and I have to share with them."
His son, Danny, said his father deserves the bonus.
"There's no one else who deserves it more than this man," he said. "He's worked hard his whole life. He deserves every bit of it."
The local win marks the first time the California Lottery has doled out a jackpot topping $1 billion to a single winner.
The odds of matching all five numbers and the Powerball number is 1 in 292.2 million, according to the Multi-State Lottery Association, which conducts the game.
The Powerball game is played in 45 states, the District of Columbia, Puerto Rico and U.S. Virgin Islands.