Apollonia remembers legendary singer Prince
LOS ANGELES - It was an interview four years in the making. Since April 21, 2016 the day Prince died suddenly, I had been trying to speak on the record with Apollonia Kotero. Apollonia is a local girl, but she became an international hit when the legendary Prince chose her as his co star for "Purple Rain." She was his muse and they remained close.
For the interview, I met Apollonia in her old neighborhood in West Hollywood. She pointed to an apartment on the upper level and told me "I used to live there. " Apollonia still has a girlish laugh. And when she recounted the early days, her face lit up. But it was the antics of her famous, eccentric guest that riveted my attention.
Prince would show up announced in the pre dawn hours and literally roust her from sleep said Apollonia. She described all night writing sessions with the late musical genius. Two songs came out of those writing sessions, they were "Manic Monday" and "The Glamorous Life."
One story that especially delighted me was Prince ringing the bell, Apollonia throwing on a robe over her pajamas and running downstairs and jumping into a car with Prince, in the middle of the night. She described them driving down the Sunset Strip singing songs, tossing around lyrics. Sometimes they would walk from her apartment to Hugo's for breakfast. Prince would be wearing a flowing trademark purple coat, as people tried to get a better look at him.
When I asked her for mementos, she didn't disappoint. Take a look at these handwritten notes of two of the most famous songs.."Manic Monday" and the "Glamorous Life" which was written on Le Parc stationery. Prince would stay at that West Hollywood hotel, a favorite haunt of musicians, when he was in LA.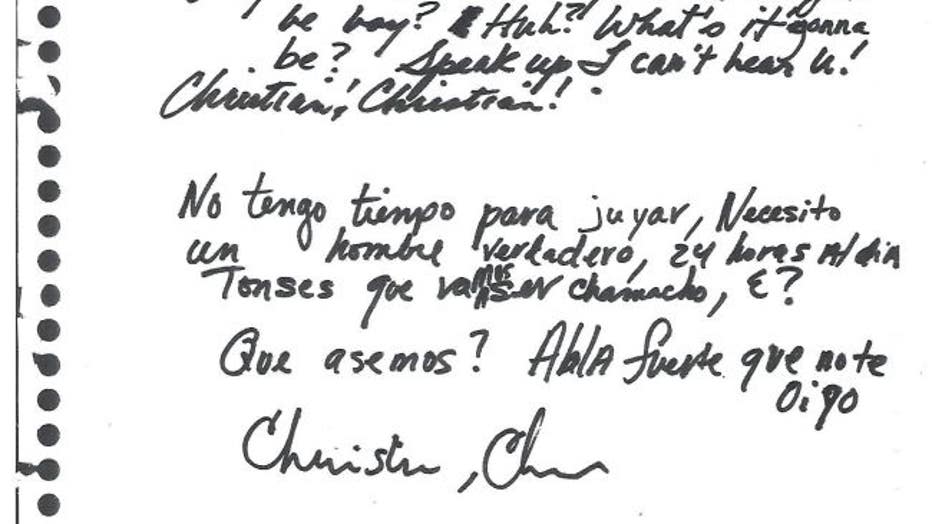 But this was more than a once upon a time in Hollywood story. Kotero described a friendship that would last for decades, until Prince's untimely death. She said they were not romantically involved, more like brother and sister and had the occasional squabble. But it was clear she had a deep love for the singer and said his accidental drug overdose death had sent her into depression. She says she saw Prince weeks before his death. They were planning to get together again. They were planning to make music together again, with songs written specifically for her. He looked thin. On the day he died four years ago her phone was exploding with text messages. When she finally checked her voicemail, her bandmates left frantic messages of Prince's death. The man who had enthralled fans with his music was gone.