Actor Brad Garrett admires local teenager's coronavirus mask making efforts
LOS ANGELES - Joie Littman is 16-years-old. She goes to Calabasas High School and is helping in this public health crisis by making face masks for first responders, hospital workers and family friends like actor Brad Garrett. I talked to both.
Joie says she's made over 400 colorful cloth masks. "There are so many different patterns, so many different types of people they can go too," she said.
Garrett is impressed with the teenager he's known since she was born. "Ya know," he says, "It's so wonderful. I've known the Littman Family almost 20 years and Joie Littman… such a sweetheart," actor Brad Garrett told FOX 11's Hal Eisner. 
Joie says, "I love volunteering and things to give back and once I heard school wasn't going back I needed to do something other than schoolwork." Hence, the idea for the face coverings.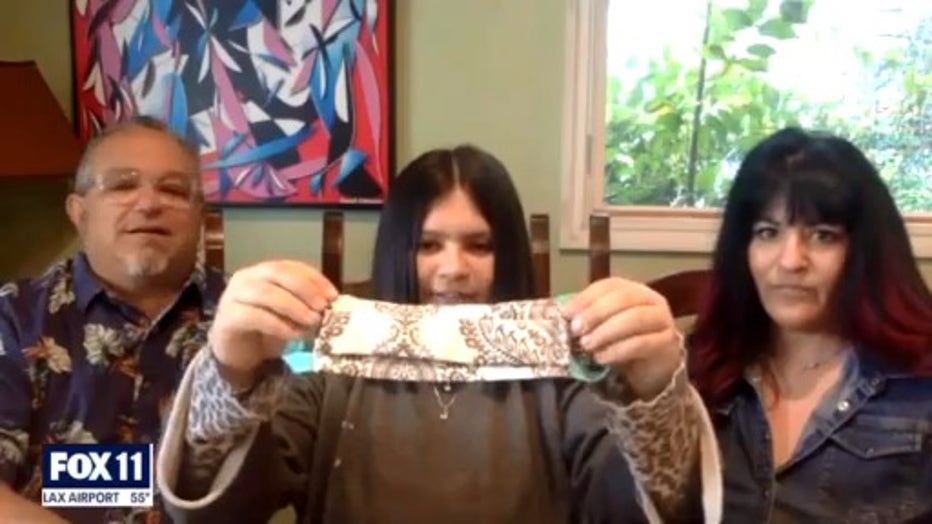 Garrett, whose known for such shows as "Everyone Loves Raymond" tells FOX 11 how Joie "... knows about my non-profit foundation called Maximum Hope Foundation and we help families with life limiting illness and we help them with daily necessities." The website for that nonprofit is www.maximumhopefoundation.org.
Joie says of Garrett, "He wanted 50 masks for his foundation and I was like 'let's do it." That impressed the actor who said that "within 48 hours we had 50 beautiful masks."
Littman recognizes the depth of the crisis saying, "people aren't really happy right now. They're very down. But, I'm trying to make everyone happy... maybe give them a fun colored mask to brighten their day."
For Garrett, who's home-bound like everyone else, says he's hoping there won't be another crisis like this, but says "if in fact it happens I hope we're better prepared and our medical community. We will get through this. But we have to learn from this."
Joie's parents say if you would like to reach out to their daughter for a mask you can writer to her at her Instagram page. 
Get breaking news alerts in the FOX 11 News app. Download for iOS or Android.