5 Freeway at Grapevine reopens after being shut down for 3rd time in a week due to ice, snow
LOS ANGELES COUNTY, Calif. - The 5 Freeway near the Grapevine reopened Wednesday evening after being shut down multiple times this week due to snow and poor visibility. 
According to Caltrans, the 5 Freeway reopened in both directions from Parker Road in Castaic to Grapevine Road in Kern County around 4 p.m.
The busy freeway shut down again Wednesday morning. Drivers traveling northbound were diverted off the freeway at the Parker Road exit after being stuck in traffic for miles. FOX 11's Christina Pascucci endured the traffic jam and said it lasted for roughly 45 minutes.
A series of storms hit the area and this marks the third time in a week Caltrans and the California Highway Patrol shut down the Grapevine.
RELATED: Multiple freeways in SoCal closed due to snow, flooding
CHP said snow levels dropped lower than anticipated, and were said to drop to 1,500 feet.
Highways 138 and 58 remain closed, and it is recommended motorists use the 101 Freeway as an alternative route.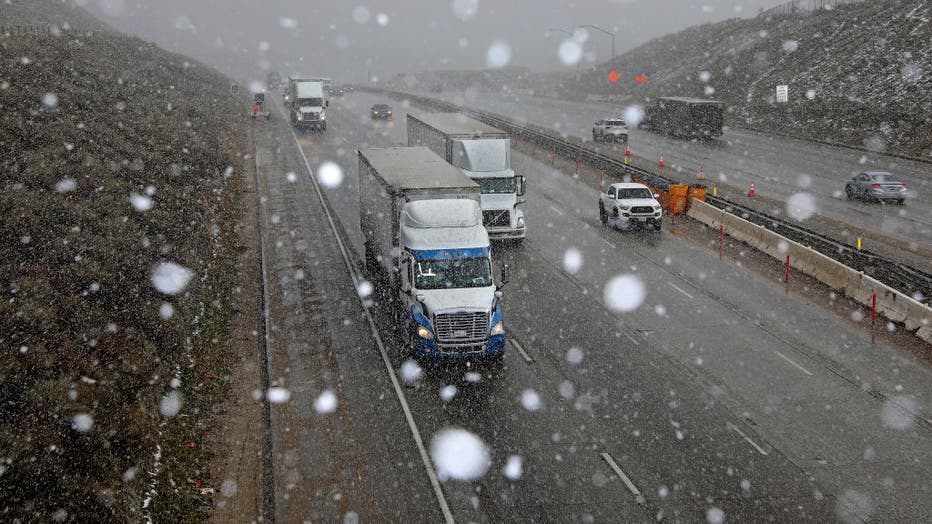 FILE- Tejon Pass (Gary Coronado / Los Angeles Times via Getty Images)
The storm is expected to taper off Wednesday evening.