Multiple freeways in SoCal closed due to snow, flooding
LOS ANGELES - Several freeways in Southern California remain closed due to severe snow or flooding, Caltrans announced. 
RELATED: Southern California storm: Heavy rain, mountain snow, gusty winds expected
Below is a list of closures that remain in effect as of noon Wednesday: 
The 5 Freeway is closed in both directions. Southbound lanes are closed at Grapevine Rd. and northbound lanes are closed at Lake Hughes Rd in Castaic, per CHP. There is no estimated time of reopening.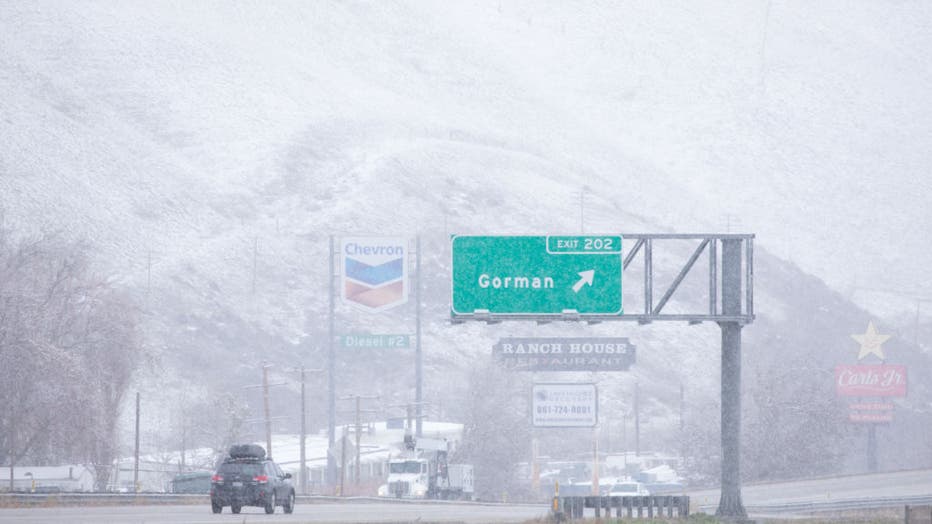 FILE-Gorman, CA (Myung J. Chun / Los Angeles Times via Getty Images)
Highway 18 is closed to northbound traffic from lower Waterman Canyon to the junction of SR-38 due to snow. It's also closed to southbound traffic from Big Bear Dam to the Mitsubishi plant. Caltrans is no longer escorting traffic up to the San Bernardino Mountains.
RELATED: San Bernardino County declares state of emergency as people remain trapped after storm
Highway 39 in Angeles National Forest is closed from Coldbrook Ranger Station to two miles north of Crystal Lake Road due to snow, and closed from there to the junction with Highway 2 due to maintenance. 
Highway 138 remains closed from the 5 Freeway to 190th Street West in northern Los Angeles County.
RELATED: Residents, vacationers stranded in San Bernardino Mountains after weekend snowstorm
Highway 33 in Los Padres National Forest is closed north of Ojai from Matilija Hot Springs Road to nine miles south of the Ventura County border with Santa Barbara County due to flooding.
Highway 2 in the Angeles National Forest is closed from the border of Los Angeles and San Bernardino counties to Highway 138 due to snow.
RELATED: Southern California gets hit with powerful storm bringing rain, mountain snow, gusty winds
All roads to Big Bear Valley (SR-330, SR-18 & SR-38) are closed.
Caltrans warns drivers to limit nonessential travel and stay home if possible, as a new system has arrived in the region.